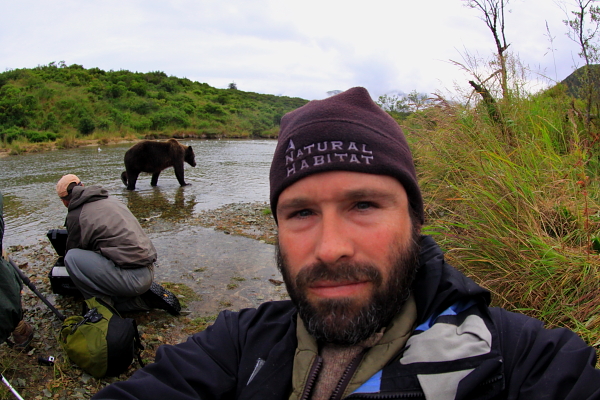 About Brad Josephs
Alaska Bears and Wolves is a site dedicated to the appreciation of the top predators that are found in Alaska, "The Last Frontier". Here you will find news, articles, videos, and images posted by Natural Habitat Adventures' Expedition leader Brad Josephs, that relate to aspects of bear and wolf biology, conservation, and expeditions that will take you to the right places in Alaska to appreciate, observe and photograph these iconic symbols of the North American Wilderness.  Click here to read more about the importance of conserving our grizzly populations.
Brad has been a Natural Habitat Expedition Leader since 2005, guiding the Alaska grizzly bear tours, Churchill polar bear tours, Northern Lights Photography Expeditions and the China panda tours. His specialty is bear biology and ecology of the north country. He attended the University of Alaska, Fairbanks, graduating with a B.S. in wildlife biology in 1999, and since then has worked as a biological research tech on various projects throughout Alaska. He has guided numerous professional photographers, photography workshops, bear viewers and film crews on expeditions along the remote Coast of Katmai National Park for the last 14 years, as well as in Churchill, Manitoba for the past 9 years, and China for 6 years.  In the off-season Brad keeps busy as a freelance wildlife writer, photographer and videographer, consultant for wildlife film productions, and lectures to schools, government agencies and organizations.   In addition to being a "bear junky" and wildlife photographer, Brad's hobbies include botany, gardening, bird watching, and volunteering with the Homer, Alaska volunteer fire department as an EMT. Brad's love of wildlife has led him on numerous solo adventures throughout the world including trips to Borneo, Central America, the Amazon, China, Africa, Sri Lanka and India.
Check out and subscribe to Brad's youtube channel HERE, it has 4,000 subscribers and has received over 11 million video views!!!! See cool footage from Alaska, Africa, China, and Canada of blizzards, brown bears, polar bears, pandas and more!
Read some more articles on Natural Habitat's Good Nature Blog by Brad:
The World's Most Underappreciated bird?
See the violent dynamics of bears fighting for dominance on a fin whale carcass!!
Check out this video of a Bear chewing up my GoPro camera!!!

Check out the following compilation of Brad's bear and wolf encounters while guiding in Alaska in 2010.

Here is an Aurora Timelapse from March 2013

Check giant brown bears brawling for mating season dominance.