I recently did a webinar on Natural Habitat's Churchill expeditions. If you missed it, here is the recorded version, but I answered all of the questions submitted. Thanks guys! At the bottom of the post I also embedded the recording of the in-depth webinar I did on Hudson Bay polar bear biology.
When did you say the males spar? When the bears are waiting for bay to freeze, they often will spar, as there is no way to hunt seals yet.
Do you have a favourite time of year to visit Churchill? Fall for polar
bears, summer for beluga whales and other wildlife, and mid winter for
Aurora Borealis are all special in their own ways.
The photographic trips….. do you need to know how to take photos?
Expedition leaders generally help people learn how to photograph.
This instruction is increased if you book a "Photo Trip."
Do polar bears hunt in the water or just hang around a hole in the ice waiting for a seal? When the ice is broken into small chunks, or ice
floes, they swim between them in their pursuit of seals, but they really
can't swim fast enough to catch seals in the water, only when they
emerge on the ice to rest.
Are the bears fed while in jail? No, in the early years they did feed them, and the next fall some bears tried to break into the jail to get their spot
Do polar bears ever get trapped beneath the ice or can they always find their way up thru the ice? Generally, no. They normally only swim when the ice is broken into floes. I guess it is possible that if they break
through the ice this could happen, but I have never heard of it.
What else do polar bears eat besides kelp and seals? They will eat
anything that we consider edible. In the summer they feed on beluga
whale carcasses, bird eggs, berries, any dead animal meat, geese that
can't fly during their molt, and human foods.
On the fall polar bear trips, do the guests get to see the polar bear jail with polar bears inside? No people, other than the conservation
officers, are allowed inside the jail to minimize disturbance to the
bears and to avoid habituating bears to humans.
Can you give the cite for Brads other webinar. Bears 101?  Thanks.
see below or click this link https://youtu.be/qt4nX0AuS7I
While the polar bears are held in the "jail" for up to 30 days, are they fed?  If so, what? They are provided ice and water. They have enough
fat reserves to survive, and they want to avoid the bears wanting to be
in the jail in the future.
Is the helicopter ride an option when you stay at the tundra lodge?
Yes, all trips have the option for a helicopter trip. Click here is a blog post
I did on the helicopter trips.
Should I be able to see the speaker? No, to ensure no issues with my
internet, I chose not to stream my camera. I am sorry.
How long do the ear tags last? Generally forever unless they get ripped
out during a fight.
Is there an issue there with red foxes killing the Arctic foxes? Yes, we have seen this happen several times. As the climate warms, the red fox
infringe on arctic fox habitat.
There are black bears up there? Yes, but they disappear inland to look for a den in the fall.
How often do polar bears eat/feed? During the winter through early
summer, they can eat very often, but during the ice free periods they
can go weeks or months without eating. On average through the year,
polar bears need 1 seal per week.
Do the bears vocalize when they play-fight? Rarely, but when the play
becomes too rough they may growl or roar if angry.
When bears end up in prison, is there a worry that females are being
separated from vulnerable young? The families stay together in larger
cells than single bears.
Just an fyi — it's not called the polar bear jail anymore!  There is a
new CBC program called Arctic Vets that had a show about capturing a bear and moving it out of town! Correct, it is now known as the polar
bear holding facility.
Does the polar bear's ear tag transmit? No, they just provide an
identification number so when captured again they can keep track
of their age, size , history of capture ect….
What is the best time to visit Churchill on this trip? Anytime during
our booking window is great. Some years the early trips are better than
end of season, and some years vice versa. Every season is different.
What do you mean when you say Aurora season? Although aurora
can be seen on any dark, clear night, the chances for cloudless skies
are highest in the mid winter when the bay has frozen, and is no longer
producing clouds and fog. We run these trips during this period
and can focus our activities to maximize aurora viewing.
You give cold weather gear? Is this rain pants, parka, hat, gloves? Yes, but no rain pants and gloves, but we do provide warm boots. On aurora trips you get parka, gloves, hat, snow pants and boots..
Are they for use while you're there, or given to you? You can keep the
hat, the others are returned.
Are there shuttles to the town to sightsee when you're not out on the
rover? Yes each group has a private bus and driver when we are not on
the tundra to sightsee.
Ptarmigans, never seen red ear tips….? The males breeding plumage includes red head markings.
Do polar bears hibernate? Only the pregnant females will enter a den
to give birth around mid November, and emerge in mid March when the cubs are big enough to follow mom onto the sea ice. Other bears are
active and seal hunting all winter.
Which is bigger: polar bears or grizzlies? Polar bears are generally bigger than grizzly bears. A full grown male polar bear weighs around 350–700 kg (772–1,543 lb), while a female is about half that size.
Grizzly bears weigh about 270 kilograms (600 lb) in the interior and 400 kilograms (900 lb) on the coast. Females again are about half that size. However occasionally huge male grizzlies have been recorded with weights up to 680 kg (1,500 lb) on the coast. Grizzlies on the coast have access to salmon, a high protein food which allows them to become much bigger than interior grizzlies, which have to eat a lot of plant food.
Brad – Do walrus inhabit this area of the Hudson Bay? Only in northeast Hudson Bay, not in the region we visit.
Are the bears more active during the day or night? Equally. In the
arctic there is little or no night during the summer, and in the winter vice versa, so they can be active in either.
On the trips do you ever entice the bears with food or enrichment
toys? No, it strictly prohibited to feed bears, as it creates bears that
can be very dangerous.
What is the average snowfall in Churchill? Churchill is semi arid, but
does receive an average of 79 inches per year, with about 35 inches
during October and November.
What's the impact from climate change on the economy of Churchill – won't the train, etc. have trouble with higher water levels? As
summers are longer and hotter, permafrost, or permanently frozen
ground, melts, causing structures, roads and railroad tracks to sink into
the ground. This is a major problem across the arctic.
When the bears try to get the seals do they go for the jugular or just whatever they get a grip on? They will grab any part they can, but to
kill the seal they generally bite the base of skull, or the throat.
What animal is it that the artic fox eats that makes their population cyclical – I thought I hear him say lemming, but am not sure. Thanks.
Yes, lemmings. These rodents are very cyclical. Some summers are big
lemming years, which cause fox populations to grow, and some summers
are lean, causing less fox kit production during the summer.
Is it possible to drive from Winnipeg to Churchill? No, it is only
accessible by air, boat or rail.
How many cubs does a mother polar bear usually have? 1-3, average
of 2.
How high can polar bears jump? I have read around 6 feet, and are
good at jumping between ice floes.
Which of the Churchill trips allows you to see the greatest variety of wildlife? The summer trips have more diversity of wildlife due to higher chance of seeing caribou, beluga whales and more species of birds.
Are the bears affected by tourists? The government has studied the
affect of polar bear numbers and activity in the tundra by the rovers,
and they found no affect.
Here is the recording of the webinar I did on the biology of Hudson Bay polar bears.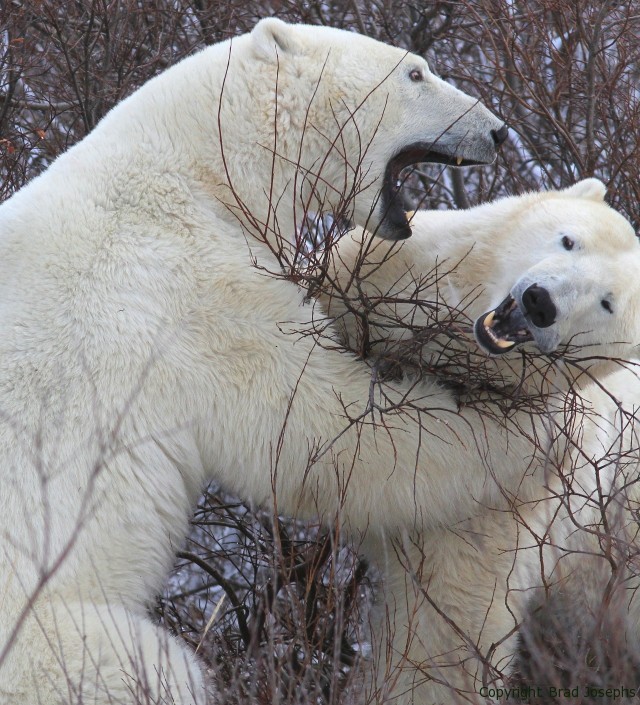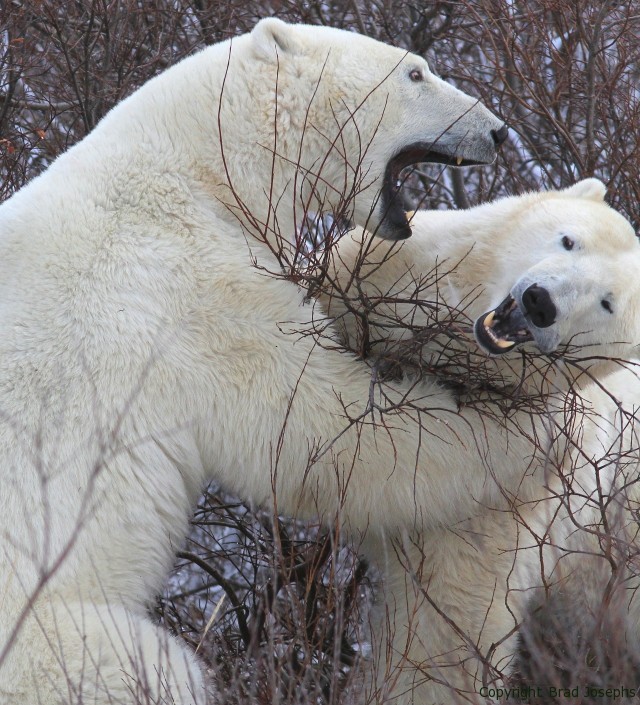 Stay tuned for more! thanks guys!