I must say many of my dreams came true this past April while guiding the first two Natural Habitat Adventures expeditions in China with our new itinerary, which explores much wilder areas of this exotic land.   One of the goals of this trip was to go beyond the more traditionally traveled regions, visit some unknown wildlife sanctuaries, and hopefully view and photograph some of the rarest and most endangered wild animals on the planet.  As you will see below, mission accomplished.
Each trip had its own special highlight wildlife encounter.  For the first trip, this occurred in an unknown nature reserve, that had never before seen western tourists.  This was my first time to the park, but I followed my Co-guide Phillip He's instincts, and local knowledge to pursue one of my wildlife fantasies that has eluded me countless times in the past – to view the highly endangered and rare golden snub-nosed monkey in the wild.  This was not an easy hike, as we covered 3 miles each way, and gained around 1,000 feet elevation, but the effort was rewarded in full as we found, viewed and photographed a troop of nearly 100 animals about 300 yards away, on the other side of a ravine from us.   In my opinion, these are the most beautiful and fascinating of all the world's primates, but sadly, they are also classified as Endangered (EN) on the IUCN Red List.  Click here to read more about these awesome creatures.
Check out this video, showing the monkeys leaping from tree to tree.


Due to distance, and light falling mist, the images are not crisp and clear, as I had to crop them a lot, but when you are dealing with rare, elusive mammals like this, I think one can forgo some picture quality, and still appreciate them.
Another incredible mammal, which is also quite endangered, that we were able to see and observe is the Golden Takin.  An encounter with these animals constituted the wildlife highlight for the second trip.  While walking down a secluded mountain path, our group encountered about 40 of them at close range.  On both trips we spotted many takin, but most from a distance.  Actually, these guys were a little too close for comfort.  When calves started appearing out of the bushes 20 feet from us, we started to back up, to give these amazing, and potentially dangerous animals, enough space. As with the golden monkey sighting, for me personally, the takin encounter ranks very high in my lifetime wildlife viewing experiences.  Click here for biology stats.
The third member of what I call the "golden three" that we viewed and photographed in the wild, is the golden pheasant.  On each trip we saw many, and had several opportunities for images.  To see this vivid bird in the wild is a spiritual experience.
Not all of the wildlife was far away.  Although also endangered and difficult to find in the wild, the hot blooded, and photogenic Tibetan Macaque is not elusive in the reserves we visit on these trips.  Each group had very memorable encounters with this cold-weather adapted, "old man of the Chinese high country."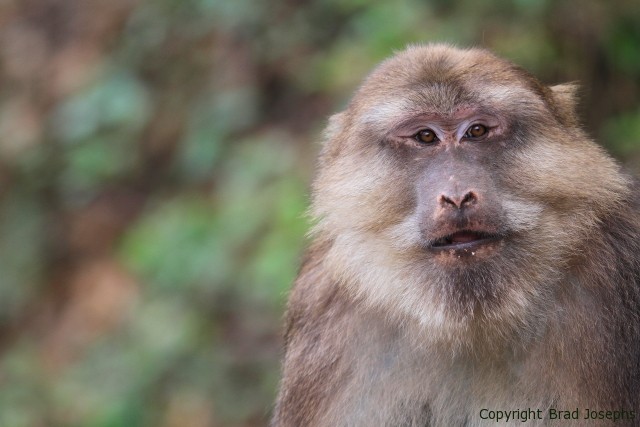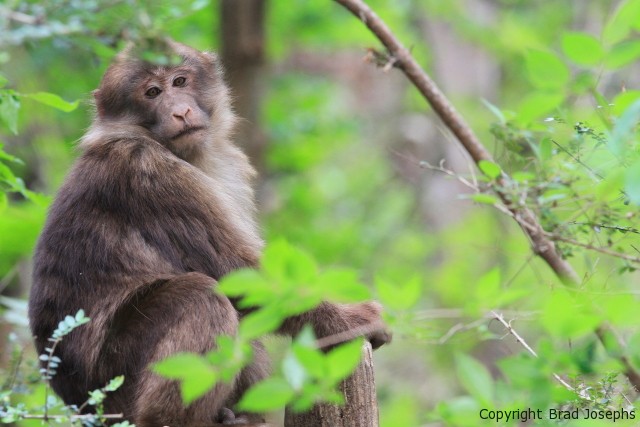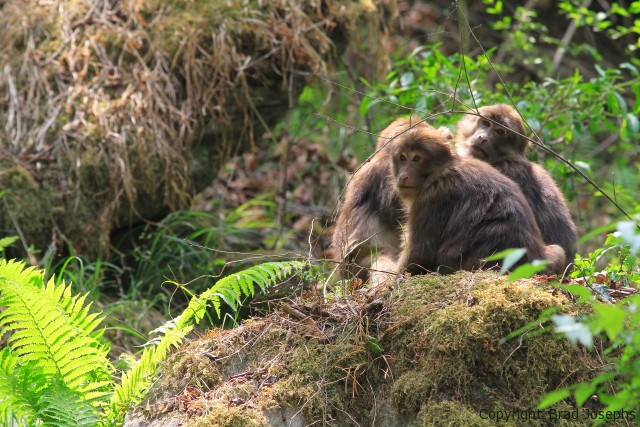 The list of mammals we viewed on our two trips is quite impressive for anyone who appreciates rare and exotic wildlife.   It also includes the reeves muntjac, masked palm civet, yellow throated marten, and maybe serow.  We did not, however see any wild pandas, unfortunately, as they are very elusive and difficult to encounter in the wild.  We did, however, find their sign in prime habitat, and had amazing viewing of countless, up-close pandas at the breeding centers.  In my next post I will explain how we helped to ensure the future of these great wilderness reserves by visiting, and putting a value on the wildlife through responsible ecotourism.   That's what it is all about.