Two summers ago I was hired by the BBC to guide the film crew for a production called the Great Bear Stakeout.  My main assignments were tracking the monster male bear we call Van, tracking wolves and hoping to film them with bears, and most importantly, to help set up remote, unmaned cameras to get super up-close wide angle shots that would be impossible to film otherwise, or if we were nearby (click here for more on this).  Tracking Van proved to be extremely difficult later in the summer, and the wolves were elusive, although we did film an amazing scene of wolves watching Pushki and Parsnip which is about halfway through episode 2, but filming bears with unmaned gopro cameras was hugely successful!  The highlights of the gopro footage appear in episode 1 that we acquired in the June filming season.  While guiding Grizzly viewing trips for Natural Habitat in July and August, I continued using gopros to add to the BBC's collection.   I filmed one clip of a grizzly cub chewing on the gopro, but not damaging it, and this video went viral on youtube, and was featured on nearly every form of media in the world.  I just found the hard drive with all the raw footage from that season, and put together a few more clips.  My favorite is a mixture of bear footage and time lapses.  I sped up the clips in adobe premiere to up to 3500% to show the passage of time, and the movement of clouds and sunlight, but slowed to normal speed whenever a bear came close to the camera.  Check it out!

This footage is what I was trying to get.  Bears doing their thing, ignoring the tiny grey boxes, which look so much like rocks I often had a hard time collecting them after their jobs were done.  The bears almost always ignored these cameras.  They were obviously not baited with anything, because 99% of the time if a bear did see one of the cameras, they would be crushed and destroyed, as bears have a bit of a naughty side and like to show off their strength.  I also never want to distract a bear from doing what it would normally do, as they have a lot of work to do trying to gain enough weight to survive winter hibernation. Baiting cameras is also illegal, unethical, and can create dangerous associations between bears and people that can prove to be fatal for both bears and the cameramen.   The secret is to go unnoticed by an animal who notices everything.  Here is another clip of a female and two 7 month old cubs walking past the camera, paying it no attention.

Here is a short clip from different angles of a bear chasing salmon, including an underwater view!

And of coarse, here is one of the versions when "a grizzly ate my gopro."

I dont suggest anyone trying to get this type of footage of bears in the future here, as the use of unmaned cameras is illegal in Katmai. We had special, one-time permission from Park Service that summer for this documentary. But I will experiment with filming nature and scenery with gopros in the future, as it is a very safe, unobtrusive way of filming wildlife very close, without having an impact on their behavior. Gopro recently contacted me, and offered to sponsor me in various ways. Check out my friend, and fellow guide Justin Gibson's very cool video of arctic and red fox checking out his gopro in Churchill, Manitoba!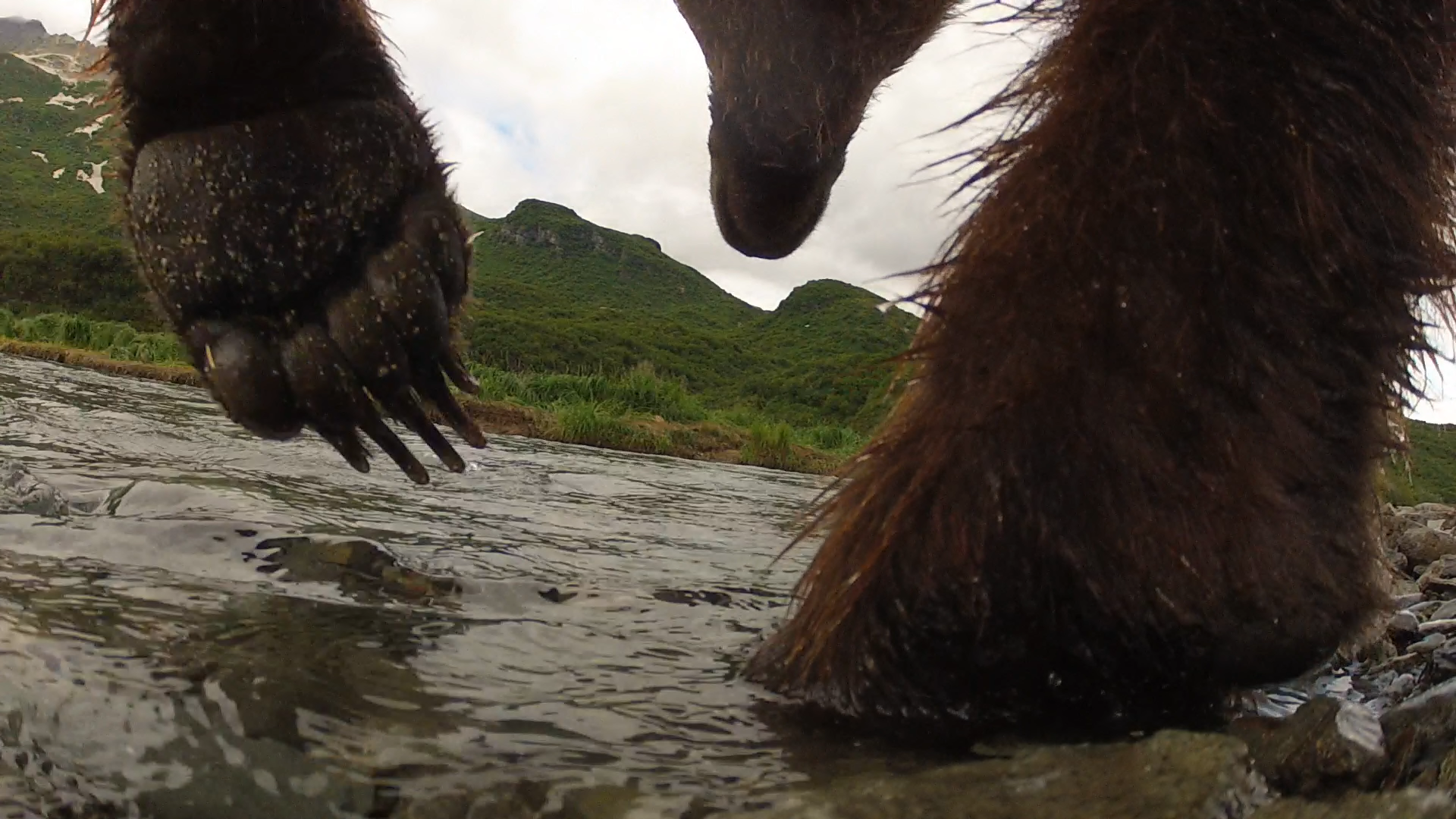 NORTH TO THE FUTURE! Brad
Note- still images are screenshots from HD video.  Thank Buck WIlde for the top photo of me- click here to check out Buck's very cool blog!