Last month, while guiding bear viewing expeditions for Natural Habitat Adventures in Katmai National Park, we watched one of my favorite mother bears show us what happens when she gets upset. While fishing at her favorite stretch of river with her 3 second summer cubs, a huge dark male encroached on her space. Many females would have chosen to back away to ensure the safety of her family, but this dominant female shows her cubs how to defend their personal space. First she chomps her jaws, which makes a resonating popping sound. Termed "jaw popping" in the bear world, it is a signal to the male and her cubs that she is very serious. The cubs become super alert and the male stops his advance upriver. Since the male doesn't back away, she does a hop-step bluff charge which shows the male that if he doesn't respect her space, she is willing to fight. Notice lots of saliva pouring from the mouths of both bears, which always happens during an adrenaline rush. As the male backs off, the female yawns, which is sign of low level stress, then sits down on her haunches, which is bear language for "ok, lets relax and get along." Check it out!
Here is what this female's cubs looked like last summer, when they were just 6 months old. They have a great mother, whom I call "Lois," named after a charismatic past traveler, and they look very healthy!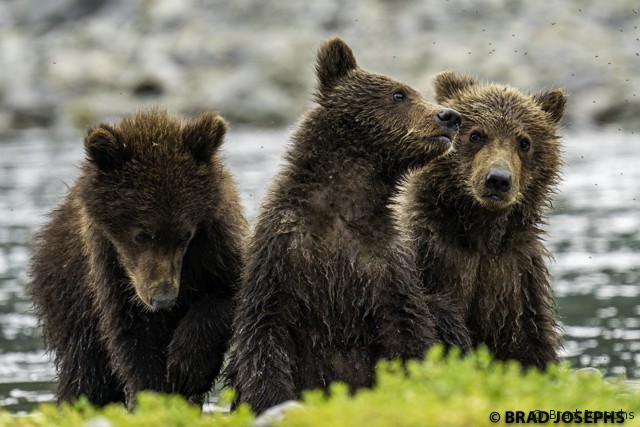 It was a truly amazing summer in Katmai, and stay tuned for more footage, images and stories from one of the wildest and most pristine coasts on earth.
Keep exploring! Brad Josephs