For me, the trip highlight of my second Nat Hab China trip was seeing my first wild red panda! There are a couple of places where you cans and a fair chance of seeing them if you have connections, but you still must be super lucky! Red pandas, in my opinion, are even more endangered than giant pandas as poaching still occurs in most of its range, but in China, the anti-poaching laws are so severe, it is very rare. In other countries like Nepal, India, and Bhutan it is a different story.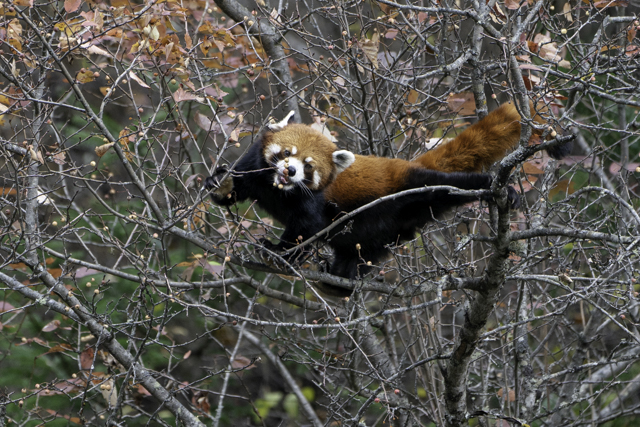 Wild red pandas are listed as endangered by the IUCN. The giant panda is now listed as threatened because although there are only around 2000 in the wild, their numbers and protected habitat is growing steadily. They estimate 10000 red pandas remain in the wild, but their range is huge, encompassing southwestern China and the entire front of the Himalayas, and their numbers are steadily declining. Good populations of red pandas remain in China, protected in heavily secure habitats that were originally saved for the protection of giant pandas. The red panda is one of many amazing animals that was saved under the umbrella of giant panda conservation.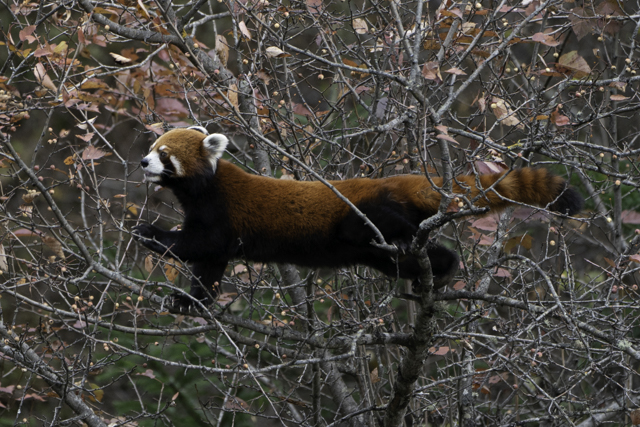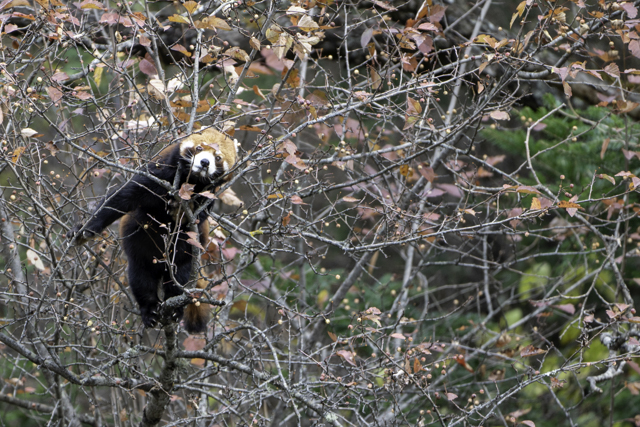 Red pandas are in their own family, Ailuridae. It was often thought to be related to giant pandas because of the similar facial marking and adaptation to a mostly bamboo diet, but genetics revealed it is more closely related to the raccoon family. It is amazing though that like the giant panda, they possess a pseudo thumb, or an enlarged radial sesamoid bone in their wrist, which acts as a 6th digit to help them grip bamboo. Red pandas are more omnivorous than giant pandas, also eating berries like this individual, small mammals, bird eggs and fruit. Read more about red pandas from WWF.
China never ceases to amaze me. Over the years I have seen so many incredible animals- takins, leopard cats, civets, hog badgers, yellow-throated martens, Pallas cats, wild yak, wild ass, Chiru, Tibetan fox and wolf, Tibetan gazelle, moon bears, golden monkeys, Tibetan macaques, and many more. I am so thrilled to now have wild red panda added to that list. I wonder what will be next… if you love China it will love you back.
Keep Exploring! Brad