Winters in Alaska can be a little lonley for a bear lover, but if you also like birds, moose, snow and incredibly rich low angle light, it is a wonderful season.  When the sun crests the mountains about 11 am, I am often hunting for images that can only be captured during the cold months.  The days are short indeed, but when the sun is out, it is stunning!  A few days ago the clouds broke about 2 pm, which allowed for 2 hours of spectacular sunset light.  We headed to beach on the Homer Spit to look for eagles, and found a few.  There were once hundreds of eagles on the spit in the winter when the famous Jean Keene("the Eagle Lady") fed the eagles fish scraps.  When Jean passed away a few years ago, the practice was prohibited, because the high concentration of eagles was not natural, and posed problems to other endemic bird life and domestic pets.  I do miss those days, however, when one could hang out with 300 very habituated eagles.  There are still lots of eagles around, and many still show their trust of humans.  A couple of them posed for me in the orange glow of the northern midday sunset.
As I was photographing the eagles perched on the driftwood I heard a familiar blowing sound behind me.  A stellar's sea lion paused and glanced at me from the frigid blue waters. This was a special opportunity that I wasn't expecting!  A least its a very close relative of bears!
I see eagles so often, and they have been photographed so much in the past, I need special circumstances to make an interesting image.  In the above image, I had great light angle, and a very nice backdrop.  The image below is a very unique perspective from an eagle perched on a light pole above me.  I am always a fan of the strange images.  At almost any location other than Homer, the these eagles wouldnt have let me get so close.  The legend of Jean Keene will live on for a while.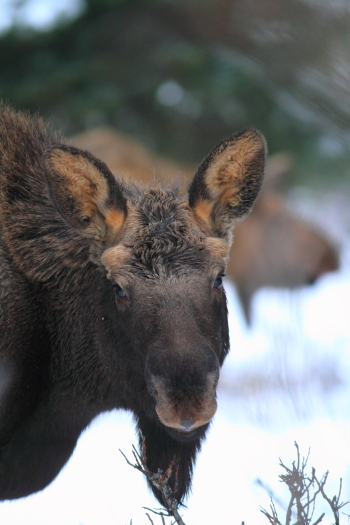 For something totally different, I love to explore the high hills above town. This is a boreal forest environment at around 1,000 feet elevation. The snow depths here can be impressive, but before the snow gets too deep, which forces moose to move down towards the coast, they can often be found browsing on willows in creek drainages up high.  I found five moose in one quiet forested area, and they have remained there for the last week.  This young bull throws me a quick glance withhis mother behind.  It is very important to give moose a wide berth, because they have evolved a fighting spirit in the presence of grizzlies and wolves.   If they feel threatened, they can be a little arrogant, and they know how to use their long legs and hooves.   One should also keep in mind that if a moose had to flee an area because of harassment by dogs, photographers, or vehicles, they would be burning precious calories.  Many moose just barely make ends meet during the long, cold North Country winter.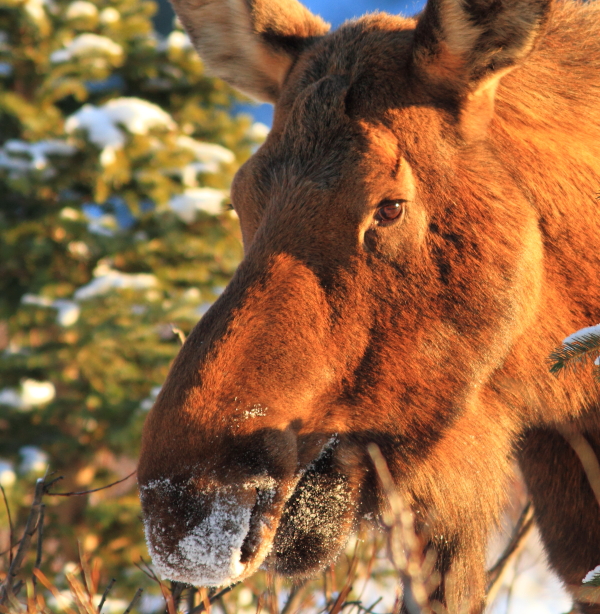 Although the diversity of birds is a far cry from what it is in the spring, summer and fall, if you look hard enough, you can find some very beautiful species that tough out the elements. When I am looking for birds, my most valuable tool is my ears. I locate and identify the majority of my birds by listening for their unique calls. The best way to increase you birding skills is to go into the field with expert birders. Each year I take part in the local Christmas Bird Count. This year, my partner was Jason Sodgren, a very good birder and raptor expert. We braved 8 hours of blizzard conditions to count as many birds as we could during the daylight hours of December 17th. The data that we, and the other teams obtained helps with long term monitoring for conservation efforts. It really helped my birding skills as well. Here are a few birds we saw during the count, and in the days since.