This past Halloween Day I witnessed a macabre and bloody scene on the icy shores of Hudson Bay- two male polar bears consuming a bearded seal.  It was one of my all-time highlights of 11 years guiding Polar Bear trips for Natural Habitat.   Each season the bears in the Churchill Wildlife Management Area get a few seals during the one month window where they concentrate on the shore waiting for the ice to form, but it is a rare occurrence.  We came upon two young males who had recently killed a seal on Gordon Point, and to my surprise, they seemed to share the meat without conflict.  Polar bears are very social animals, and commonly tolerate sharing meals when there is plenty to eat, much like brown bears on whale carcasses, but by October these bears have had little to eat since the ice melted last summer.  I expected the bears to be fighting for every calorie, but just when you think you have bears figured out, they throw you for a loop.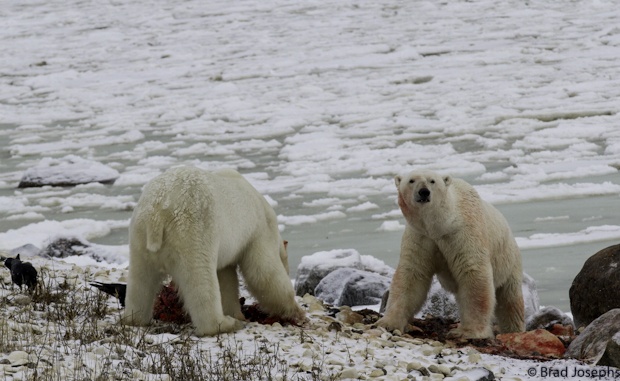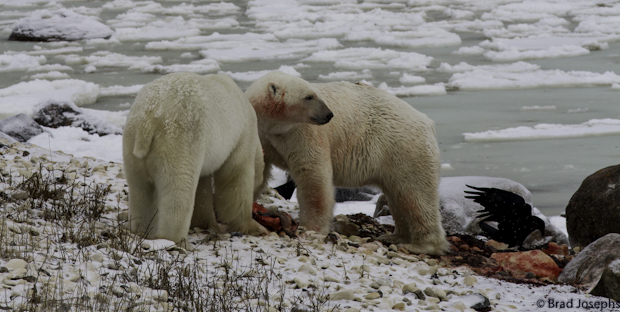 The bears weren't only tolerant of each other, they seemed indifferent to a pair of hungry ravens.  Folks who have traveled with me in the past are well aware that I am huge admirer of ravens. Their superior intelligence levels, role in natural history lore, and connection to large predators such as bears and wolves has fascinated me for decades (click here to read one of my past articles on ravens).  Normally ravens are notoriously difficult to photograph as they are so observant and seem to dislike camera lenses pointing at them (maybe reminds them of firearms?).  Two ravens fed on the carcass among the bears, and the lure of the rich meat and fat distracted them enough for my group and I to get some cool shots.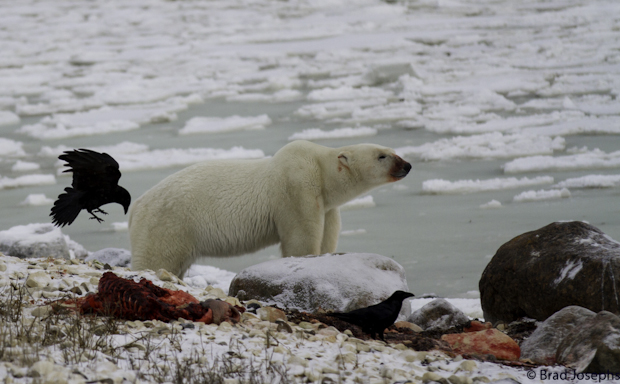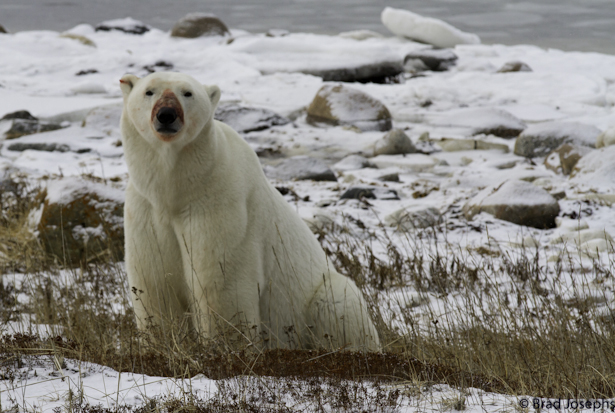 It was remarkable to see these bears, and ravens, get a bonus meal during this period when seals are so elusive.  As the ice extends into the sea the bears head far offshore, making these kills impossible to witness.  Bears must catch an average of one seal per week to sustain themselves. However during March through June they will devour much more than that, giving them the ability to build up their fat reserves to carry them through ice-free periods.  As the climate warms, and the presence of ice shortens the polar bears lose hunting time. If our climate continues to warm at the current rate, it is widely thought that polar bears will be extinct in the wild by 2050. Click here to read more about the latest thoughts on polar bears and climate change.  Once you have seen these magnificent animals in real life, this thought is simply unbearable.
Want to read more about Churchill and polar bears? Click here to check out this awesome blog dedicated to everything Churchill.