This past polar bear viewing season in Churchill, Manitoba was a huge success.  Many photographers and guides said it was one of the best seasons they could remeber.  Cold weather came early and brought in the bears, but freeze up didn't occur until all of our trips had finished.  I am going to do a series of posts showing highlights.
One evening as we headed back to town after a beautiful day of watching polar bears lit by a low angle mid-November sunshine we had something magical happen.  A bear walked past us just as the sun dropped to the horizon.   The sun was still a little intense for the perfect backlight shot, but it still worked out ok to capture a nice silhouette with the sunset in the background.  The second and third images you will notice a starburst-effect sun.  I achieved this by simply setting my aperture to the highest number my lens would allow, or f-32.  When the aperture is set to a very small opening (high f-stop number), the light bends around the blades and causes a star formation radiating from bright lights.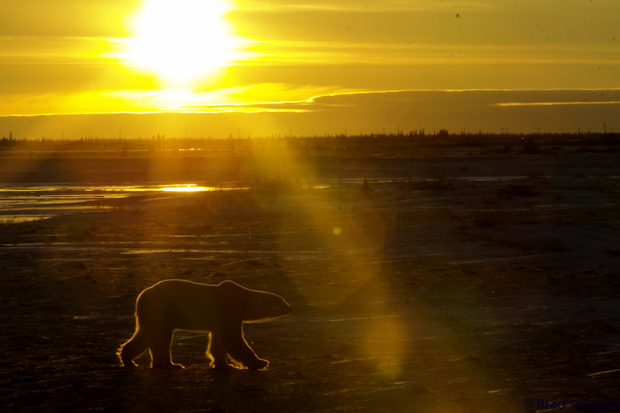 Some folks don't seem to prefer the starburst effect, but I use it often to enhance the atmosphere of sunset shots. Here is another starburst sunset shot from this past season. I wish there had a bear on this pond!
It was a great year for mothers and cubs. Here are a few of my favorite "family shots" from the season.
Last year I started taking images of folks showing off their "trophy shots." Here are some folks having a blast on the tundra photographing polar bears.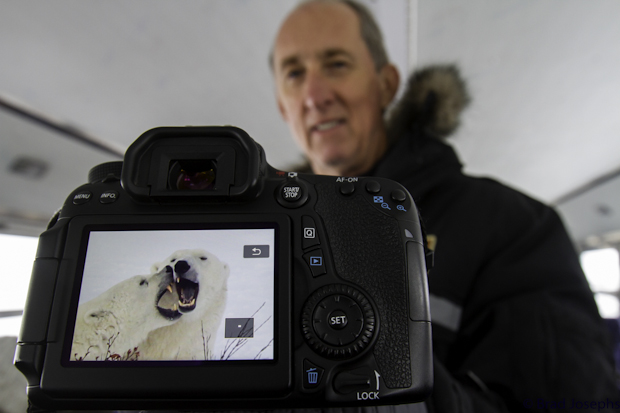 For more info and tips of wildlife photography, check this awesome new site "The Nature Photographer"
Click here to check out Polar Bear Photography Expeditions with Natural Habitat.