I have just finished leading the first of two Wild and Ancient China trips for Natural Habitat Adventures.  As always it was an epic journey across one of the most incredible countries on earth.   This is a land of mystery and juxtaposition, a place where ancient meets modern, and where a cultural appreciation of the natural world stands firmly against rapid development.  One of the many amazing places we visited was the Moon Bear Rescue Center outside of Chengdu, in Sichuan Province.  It was here, yesterday, that we witnessed something that we will never forget; bears that have forgiven human beings.
The center is run by the Hong Kong based Animals Asia Foundation which works towards endangered species conservation, and animal welfare.  Founder Jill Robinson, was inspired when she visited a bear bile farm and witnessed the horribly cruel practice of farming Asiatic black bears (also called moon bears because of the moon shaped crescent on their chest) to produce bear bile, which is used in Traditional Chinese Medicine as a cure for numerous ailments such as hangovers, impotency, and gall stones.  Jill states that she walked up to a bear, suffering terribly from the painful metal catheter embedded in its abdomen that is used to collect bile, and confined in a tiny cage, and the bear reached out and gently grabbed her hand, as if to ask her for help.  She has been on a mission ever since, and has done amazing work.  Moon bears are rescued from farms, where they suffer a horribly tortured life, given veterinary treatment to correct inevitable physical problems, and live in what I would describe as a luxurious bear country club.  It warms the heart to see these bears in their new homes, enjoying themselves and loved by the staff.  Amazingly, a dozen bears all live together in a huge communal enclosure where they soak in pools, and play together.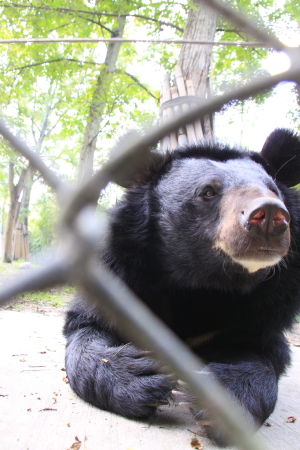 As we toured the facility one of the bears approached the fence and laid on its belly in a classic submissive posture.  We gathered around and soaked in the emotional moment.  It was clear that this bear enjoyed our presence.  It took in our scent, and made eye contact with us, and appeared genuinely pleased to be near us.  This bear lived half of its life enduring unfathomable abuse by humans, but it has forgiven our species, and was now comfortable in our presence.  To me this is just one more example of the complex and beautiful mind of the bear.
The Chinese Government is hesitant to close all of the bear farms, despite the cruelty which is involved with the practice, because they fear that the demand for bear bile would cause poaching pressure to skyrocket which would likely lead to the possible extinction of the already highly endangered moon bears, of which there may only be 15,000 left in the wild.   In the last year, however, a wonderful thing has happened through the relentless work of Animals Asia.  Media coverage has increased, and the people of China have begun to cry out against the use of bear bile.  Two well known doctors have also spoken out against the use of bear bile as a medicinal agent because there have been 10 cases of liver failure, including two fatalities that were caused by ingesting bear bile (to read more about this click here).   In addition, there are around 50 alternative plants which have the same benefits as bear bile, but without the grave risks.  It seems that in the near future, the demand for bear bile could disappear, which would end the practice of bear farming, as well as poaching bears throughout the world for the black-market.
Animals Asia is a non-profit organization which runs solely on private donations.  Natural Habitat provides a generous donation each time we visit the center, and we all threw something extra into the donation box.  In addition, one of the travelers, Sue Lemieux, a retired biology teacher who volunteers full time at a private zoo near her home, sponsored a bear named Banjo.  It is great to know that there are plenty of good people out there who appreciate bears and other animals, and I really think that the bears at the Moon Bear Rescue Center realize this.