In the beginning of expeditions I guide in Borneo for Natural Habitat Adventures, I give my group a few introductory lectures to give them a framework of the ecology, biology and conservation issues of this amazing island. I always laugh as one of my travelers once said "so if you are in Borneo you are either giant, flying or pygmy?" Yup, it is close to the truth Ill explain.
Flyers and Gliders-
One of the many unique aspects of the Borneo Rainforests is that it has a very uneven canopy height. Some trees, called emergents, tower far above others that have reached their maximum heights. To be honest I don't why this is so different from the Amazon canopy, but it is. Some trees invest more than they actually need in trunk height to reach for that invaluable sunlight. Borneo's uneven canopy results in some special difficulties for its residents. In the amazon, canopy creatures can generally climb from one tree to the other on overlapping branches, but in Borneo that is often not an option, so they must fly or glide. Gliders don't really fly like bats or birds, but use loose skin, called a patagium, to add surface area and drag to their bodies so the wind can carry them far. The number of gliders that have evolved here is mind-blowing- flying squirrels, flying lemurs (not really lemurs), flying frogs, flying lizards and even flying snakes!
GIANTS- There are some unusually large creatures in these forests. There are giant squirrels, and red giant flying squirrels, the latter is always a highlight for our groups as they are fairly common in the pristine habitats that we prowl at night.
Here is a tiny snippet of our group watching a red giant flying squirrel sail 300 feet through the canopy in one leap while on a night walk on the canopy walkway in the Danum Valley. We had already seen over a dozen squirrels fly by then, but it always elicits awe. In my opinion, it is a must see for any nature lover.

Pygmies
There are also lots of "pygmies" in Borneo. One of my favorites in the pygmy squirrel. They look exactly like a normal squirrel, but are only about 5 inches long from head to tail.
And last but not least! The incredible pygmy elephant!!! Encountering a herd of Bornean Pygmy Elephants on the banks of the Kinabatangan River is always a trip highlight for our groups. These elephants aren't really small, only about a foot shorter than Asian elephants which are about a foot shorter than the African giants. There are some other differences though, they have really long tails which touch the ground (maybe so they can hold each others tails while traveling through impenetrable undergrowth?) and very straight tusks, like forest elephants of Africa, to help them negotiate thick forests. I love them because they are the most deafeningly vocal of any of the elephants I have spent time with, have a very relaxed demeanor compared to African eles, and look so cool swimming in the muddy jungle waters of the Kinabatangan River!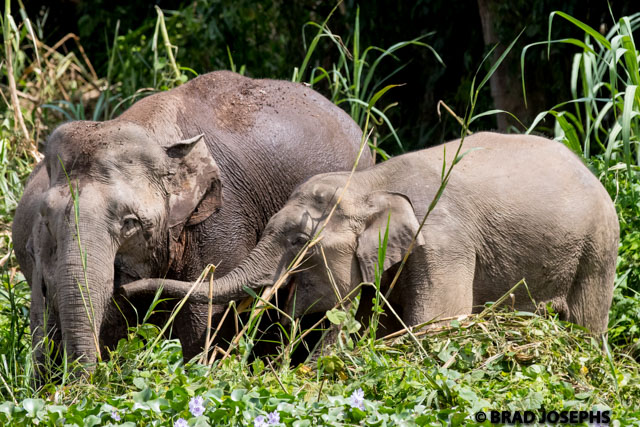 I am in love with Borneo and have been with since I was little. Borneo is not what it used to be, and there are many sad stories of destruction of some of the oldest, most diverse rainforests ecosystems on Earth. There are still some amazing slices of life there still, and I feel good to help others travel there and support those folks who are working hard to keep them saved, and expand the protected regions. Malaysian Borneo is one of the best examples of ecotourism helping conservation that I have witnessed and I hope other Asian nations are learning from its victories.
.