I recently returned from Borneo where I guided two 14 day expeditions for Natural Habitat Adventures. There is so much to talk about, I don't really know where to begin, but how about with the incredible array of some of the Earth's most incredible primates. Borneo is at the top of the charts for biodiversity with 10% of the world's flowering plants, 16% of the world's reptiles and amphibians, 17% of the world's birds and 12% of the world's mammal species which includes over 10% of world's species of primates! The major draw to the third largest island in the world is obviously the orangutans, but there is much more. Here is a rundown of what we saw!
Slow Loris- These guys are the most primitive of the world's primates and are the only ones which have retained the specialized tapetum lucidum, which is the reflective layer in the eye that allows for nocturnal vision, and creates eye shine from a spotlight.  Dogs, cats and other nocturnal animals have this, but the other primates went the diurnal route (active in day) and lost this feature. These guys secrete a toxin from a gland on the upper arm, which, when mixed with saliva causes severe allergic reactions. They cover their offspring in this mixture to protect them from predators!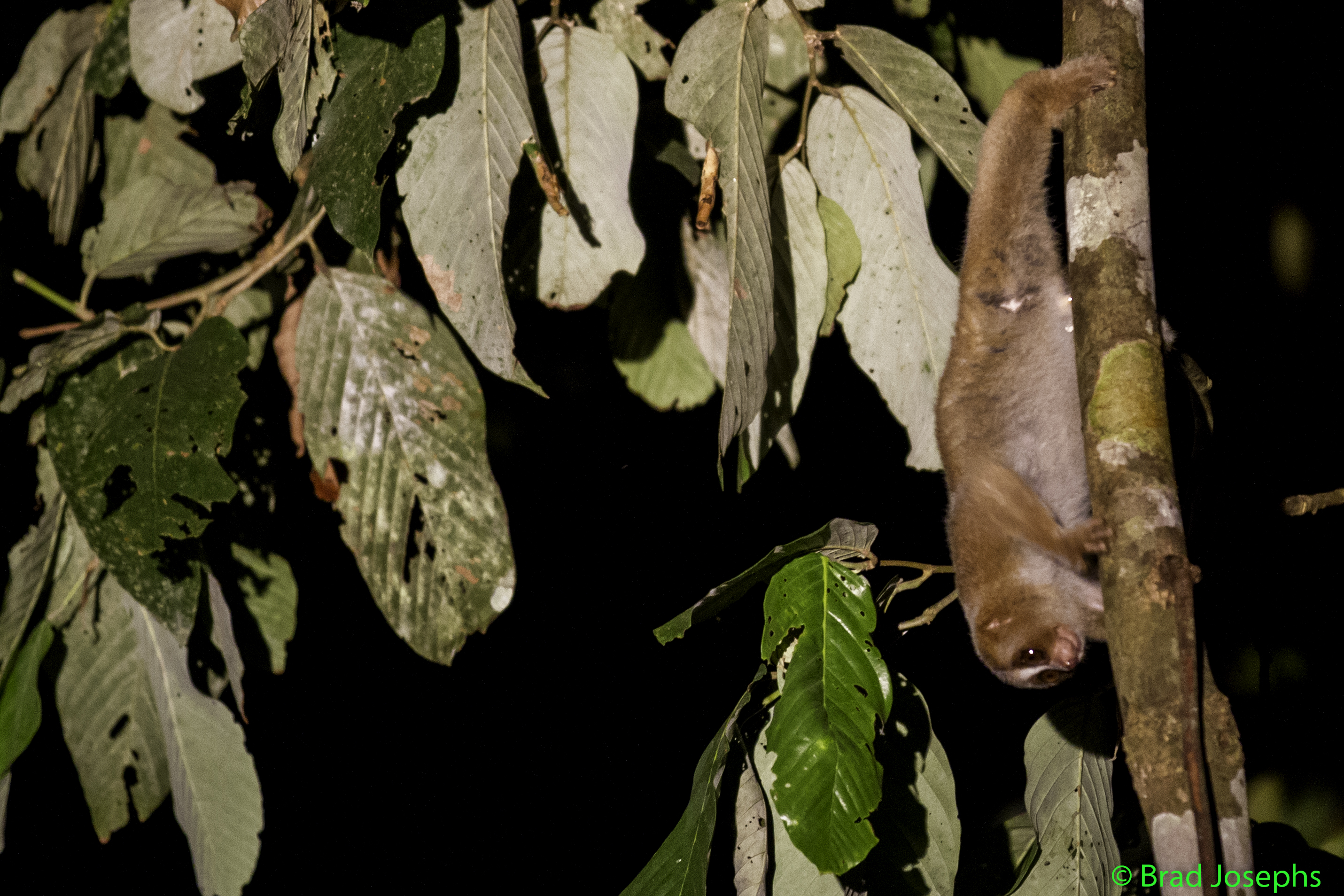 Western Tarsier– Always a favorite among the bizarre animal fans, the tarsier looks like something that could be created only in the imagination of George Lucas. Tarsiers have the largest eyes for their size of any mammals (each eyeball is the size of the brain). Why? Because they are nocturnal but for some reason lack the tapetum lucidum I mentioned above, so they need enormous pupils to gather enough light in the darkness. They don't produce eye shine, so they are very tough to spot in the wild, and highly skilled local guides locate them by their musky smell, which was described to me by the famous Danum Valley guide Dennysius Aloysius as resembling that of a drowned grasshopper. Sure, I knew exactly what he meant. They are very small, around 6 inches not including the long tail, and go hopping through the branches of the understory looking for lizards, insects.
Proboscis monkeys- Again, from the Lucas star wars files, these monkeys are known by the Malays as Monyet Belanda, which means Dutch Monkey because of their resemblance to Dutch colonists due to their large noses and bellies. The giant noses possessed by males are coveted by females for some unknown reason, otherwise they serve no other purpose. Their pot bellies act as large fermentation vats filled with microbes which break down structural sugars and detoxify poisons in leaves, so they can survive on a low quality diet, as opposed to orangutans and macaques which need to find high quality fruits to survive. In fact, if these monkeys were to try to eat figs or bananas, they would die of bloat.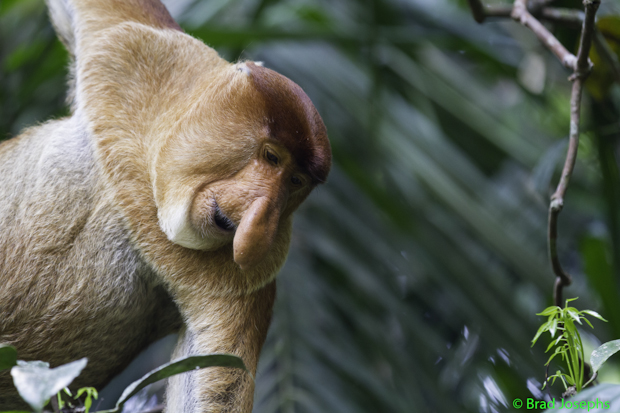 Langurs or Leaf Monkeys- We saw two species of langurs, also called leaf monkeys, because like the proboscis monkeys, they have a chambered stomach which houses microbes to let them survive on a low quality diet of leaves. Some plants in the Borneo rain forest have antibiotic qualities, and leaf monkeys avoid these because death of their gastric flora would result in starvation. I was particularly excited to see the stunningly colorful maroon langur, also known as the red leaf monkey, in the Danum Valley.
Macaques- macaques are Asia's version of baboons. They live comfortably around people, can be a threat and a nuisance, live in large family groups, and spend as much time on the ground as in trees. Borneo has two species of macaques, the crab-eating or long-tailed macaque which is sometimes seen feeding on invertebrates on beaches and mangrove swamps, and the pig-tailed macaque which has the reputation of "never giving up" in a confrontationhttps://en.wikipedia.org/wiki/Danum_Valley_Conservation_Area with humans or other primates.
Grey Gibbon- Gibbons are one of the most elusive of Borneo's primates. They are sensitive to disturbance, and because they cannot move on the ground, or swim, their range and movements can be limited by fragmentation of habitat through land clearing or road building. To travel, gibbons must branchiate, or swing from branch to branch, which is possible due to flexible shoulders and free-rotating wrists. Gibbons are shy and very difficult to observe and photograph. When filming Expedition Borneo, BBC's Justine Evans had to build and spend days in a tree stand high in the canopy to get footage. Gibbons live in small family groups which contain mother, father and a single offspring. Around 6am the male calls out to other gibbon families and he declares their territory for the day. At around 9 am both the male and female sing together to reestablish their claims. Check out a recording I picked up one morning in the Danum Valley-

Orangutans-  We saw wild orangutans on both trips in the Kinabatangan River and Danum Valley. We also visited Sepilok Rehabilitation Center in Sandakan where semi-wild orangs are learning to be wild, and can come to a  platform at the edge of the jungle for supplemental feedings if they want to.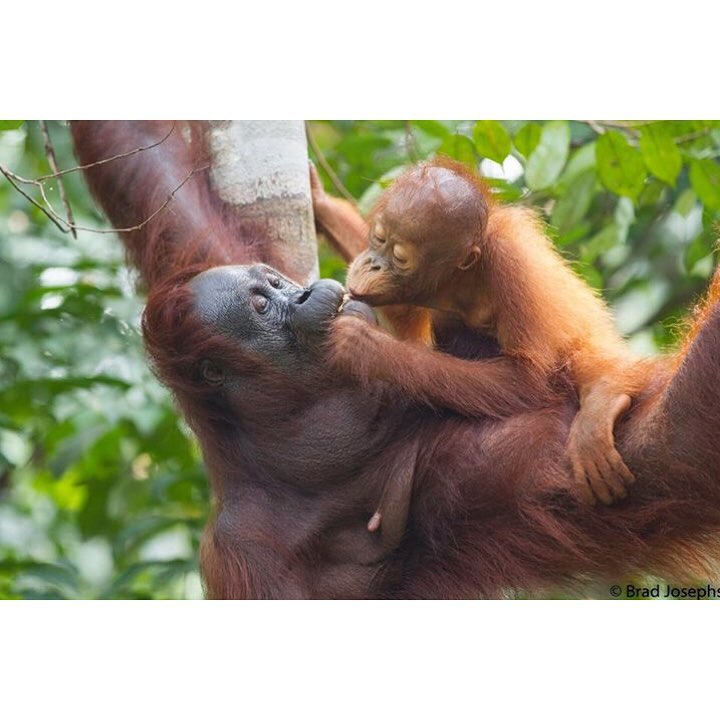 Conservation Issues and the World Wildlife Fund- Every aspect of Borneo ecosystems are highly endangered due to logging, poaching, land conversion to unsustainable palm oil plantations and climate change. WWF has been working in Borneo since the 1960's to help conserve major ecosystems through National Park creation, developing sustainable forest and agricultural practices, and fighting the illegal wildlife trade to name a few. Read more about WWF's exhaustive and very productive campaigns by clicking HERE.