Originally presented March 24, 2021
Borneo, the planet's third-largest island, harbors the oldest and tallest rain forests on Earth. Sheltered beneath their dense canopies are rivers, waterfalls and a host of wildlife that leaps, darts and crawls in the emerald jungle. Animal lovers come to look for endangered orangutans that thrive in the lush vegetation, but they are charmed by a natural treasure chest of unknown and exotic biodiversity. Join Brad Josephs for a virtual immersion in Borneo's pristine rain forest, one of the most endangered on Earth. In addition to orangs, we meet leaf monkeys, wild gibbons, flying lemurs and more than 300 vibrant bird species. Rare proboscis monkeys are at home in coastal mangroves where hornbills and sea eagles soar overhead. On Selingan Island, tiny turtle hatchlings find their way to the ocean. Beneath Mount Kinabalu's prominent peaks, pygmy elephants lumber through the forest while monitor lizards sunbathe on the banks of the Kinabatangan River. Wildlife flourishes in Borneo, and it provides a matchless nature adventure for tropical safari-goers. Below is the webinar recording, and the answers to your questions-
How much walking is required? The most walking is required at the
end of the trip, in Danum Valley. Here we split the group into tougher
hikes and easy walks. Sometimes the best viewing of wildlife necessities a longer tougher hike, while often the action happens right around the
lodge- it just depends on where the wildlife is. The longest tougher hikes available are around 3 miles in length.
Is it safe to eat fruit and seafood at the market? The food is safe,
but we generally only eat fruits that we have to peel. For other types of
fruits and seafood, we give them to our lodge to prepare in a
safe manner of washing and or cooking.
Is there a mosquito/malaria concern in Borneo? Mosquitos are
surprisingly rare where we visit, and those present only come out in the
evening and night, and are easily deterred with repellent and long
sleeved pants and shirts. There is no malaria present in the areas we
visit. No local residents, nor any of our nathab expedition leaders
take malaria prophylaxis. This is a choice to be decided by you and
your doctor, but in my opinion, there is no need. Doctors will see that
malaria can be present in Indonesian Borneo, but not in the regions we
visit.
What is the cuisine; what type of menu are the meals composed of? It is an exotic mixture of Malay food (similar to Thai), Chinese (originating from Chinese settlers along the coast 500 years ago), and indigenous
local food.
Is the Malay badger related to skunks? Yes! Despite the name Sunda
Stink badger, it is actually not a badger, but an old world skunk. This
species has several common names, including Sunda Skunk. I was
sprayed by this guy while watching him forage for insects and scorpions
in the Danum Valley.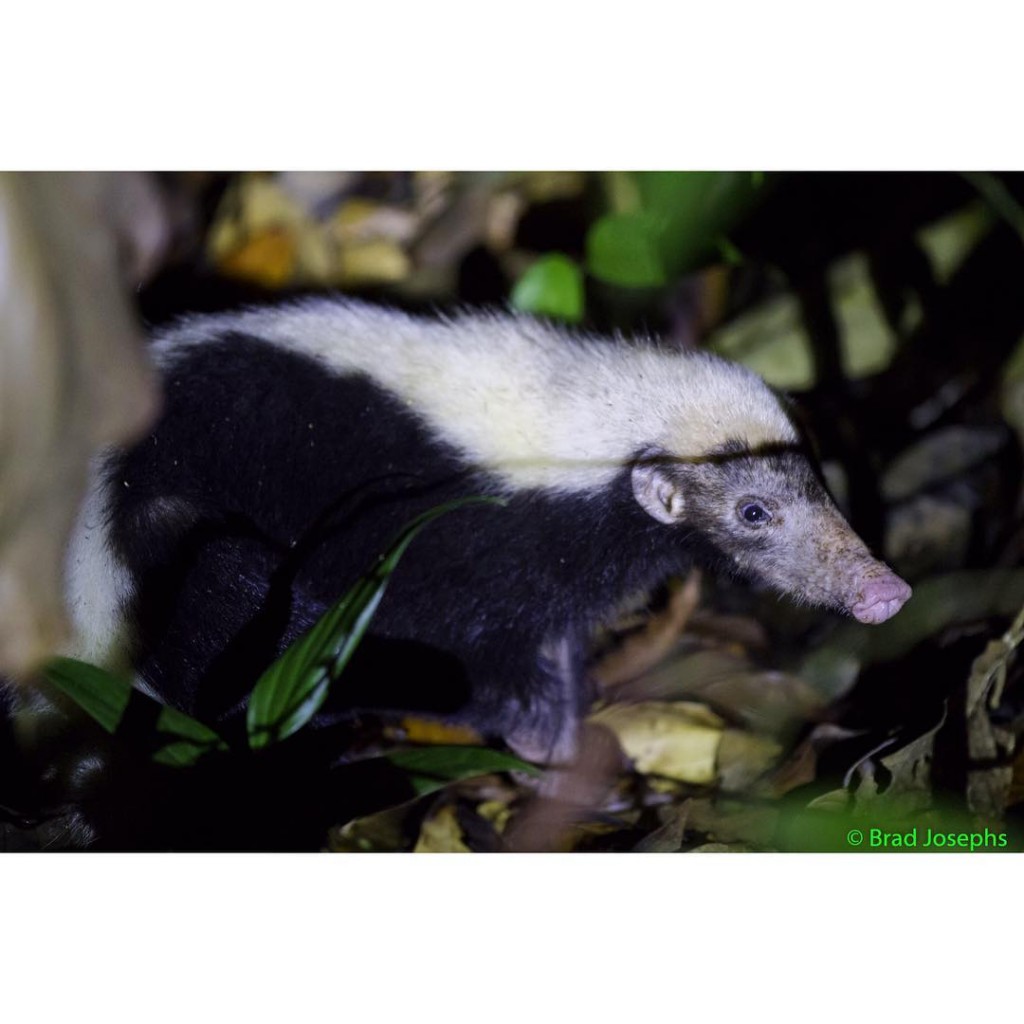 Is the calugo related to bats? Calugos, or flying lemurs, are in their
own family, "Dermoptera" meaning skin wings, referring to their skin flaps used for gliding. They are most closely related to primates. They use
their wings only gliding, and do not fly like bats and birds.
How can we avoid palm oil when it is so ubiquitous? Palm oil
is a necessary part of our world now. The focus on conservation
is to grow the palm oil responsibly. The worst way to grow them
is to clear-cut forest, and grow them in a "monoculture" which
provides the lowest biodiversity. Managing land as a mosaic, with
large areas of intact rainforest connected with corridors is the best
way.
What is the level of difficulty for this trip? The aspects that make this trip challenging is mostly the climate. Temperatures in 90s with very high humidity, much like southern Louisiana in the summer, are what is
expected in such a tropical zone. The hiking requirements are discussed
above. All accommodations are luxury, with the exception of one night at Turtle Island, which is clean but basic.
Sea turtles seem to be endangered in so many areas and fortunately
there are many efforts to protect them.  What makes them so
endangered? The following are the major threats to sea turtles:
-poaching of eggs, which have 10 times the caloric and fat content as
chicken eggs. Adults are also consumed by humans.
-They can become entangled in fishing nets, and drown, as they need air.
-Loss of nesting habitat. Turtles will not come ashore when the beach
has manmade lights.
– Many turtles eat jelly fish, and they mistake clear plastic for them, and
this clogs up their digestive systems.
Have you ever gone snorkeling and diving in Borneo? We do have an opportunity to snorkel off the beach at Turtle Island. It is not a great reef, but many folks enjoy it. If you want more I would suggest an excursion
to one of the world class diving resorts after our trip- they can easily be
arranged from Kota Kinabalu where the trip ends.
What level of fitness is required to visit the orangutans? Must visitors climb hilly terrain to get to them? This varies…. At the orangutan
sanctuaries, it is extremely easy, as it entails a ten minutes walk on
boardwalks. Viewing on the Kinabatangan River is from boats. In the
Danum Valley much viewing is near to the lodge, with little walking,
but we have options to find others on challenging jungle trails.
Are pygmy elephants being poached? The poaching for ivory is not
nearly as extensive as it is in Africa. The threats to them come chiefly
from habitat loss, and conflicts with palm oil and other agricultural
plantations.
I am very concerned about the destruction of the forests in the name of palm oil. What influence do these tourist trips have in
encouraging the powers that be (ie governments) in preserving the
ecosystems they have. Ecotourism I imagine would generate a great
deal of revenue, but likely not against the behemoth of the palm oil
companies. Does Nat Hab have some influence? Ecotourism is a
fantastic way to put value on intact forests and wildlife populations. It
also provides travelers to learn about and get
Best place to buy Grunden's Dry bag? You can order them online. Here is a link– Click here.
What is the range of temperatures encountered? High temps range
from high 80's to upper 90's, while low temps are usually in the mid 70's.
Happy Humpday! It's Amira here and I'm wondering
how big the two kingfisher birds actually are – the first
looked about the size of a hummingbird and the
second not too much bigger, but those pictures being so close up, I'm not certain of scale and I thought kingfishers were actually fairly large birds. Thanks much! Amira
Kingfishers vary in size, with some being around the size
of a chickadee, but some are much larger, around the size of a robin.
One more thing – since it's a rainforest, how hot is it when folks are hiking (and how humid)? Thanks again – and please tell Brad that his pictures are awesome! Borneo is very hot and humid. We expect temps in the mid 90's, with heat index values between 100 and 120 far.
What flash did you use at night. We generally do not use
a flash at night. If everyone in the group was flashing the animal, it seems it would disturb some creatures, and
it more difficult for the rest of the group to enjoy viewing
it. We illuminate the subjects with low intensity LED
lights. I explain much more about Borneo night
photography in this webinar. Here is the recording-
What's the status of elephant survival – or poaching – vs
African elephants? In Africa the primary problem is
poaching for ivory. In Borneo this does not seem to be
nearly as big of an issue. Habitat loss and elephants
conflicting with palm oil plantations. Elephants can
decimate young palm oil trees, but when they get older,
elephants do not bother them.
What defines a 'primitive' primate? I would describe the primates
as edging up in evolution in cognitive ability and development, with the
final category being humans. Orangutans are 97percent genetically
similar to humans. The loris and tarsier seem to be similar to the
precursors of these advanced species, but this description is just
how I describe it, and it may not be technically correct.
Can Brad recommend field guides to fauna in Borneo? This is a
FANTASTIC guide to the ecology and mammals of Borneo. We provide
this book as a gift to all travelers upon the beginning of the trip.
Mammals of Borneo.
What lenses would you recommend for this trip? My two favorite
lenses I have used are 70-200 2.8 for low light conditions when subjects
are not so far away, and 100-400 zoom for more faraway subjects. I
used to shoot canon, but now shoot Sony mirrorless.
Other recent Borneo webinars-
Click here to see our Borneo expeditions-