Hey guys! Sorry for the delay. Here is the recorded version of my raven webinar, and answers to the questions that were submitted. Thanks guys for supporting this webinar series!
Can Brad speak to the lore/stories about ravens or crows 'gifting' people bits of plastic, bottlecaps, buttons, etc. little treasures to thank them for food? I haven't seen this myself, but I have heard these stories, and they do not surprise me at all. I have seen that crows and ravens can be trained to pick up litter from stadiums, once they learn they will get a food reward when they bring trash to a specified place- how amazing!!!
Do crows have similar skills and intelligence as ravens? Yes, crows are also incredibly smart, but since ravens have larger brains, they are considered more intelligent. Crows have been known to do some fantastically cunning things, such as these that use traffic to crack nuts!
Grackles look like ravens a bit…any relation? Grackles are in the same Order, Passeriformes (song birds) as ravens, but being to a different family called Icteridae. Ravens belong to family Corvidae, which includes crows, jays and magpies. There are many species of myna birds, blackbirds, starlings, that resemble crows and ravens, but are not closely related, and are not as intelligent as the Corvids.
What would cause a raven or crow to dive at a person? This has happened to me a couple of times. This can happen with many species of birds that may be trying to protect the nest. There is no limit to the crazy behaviors of crows and ravens, however, so they may be trying to play.
We had a white crow in our neighbourhood a few years ago. Is this unusual? Albino crows and ravens are very very rare! You are lucky to have seen one!
If a raven's mate dies, does the remaining one find a new mate, or is that it? It is my understanding that the survivor will mourn for a period, even more than a year, but will accept a new mate.
Do you think ravens are smarter than parrots? I have always heard and read that ravens are the most intelligent birds, as their brains are larger, and they have evolved special systems for acquiring food and stashing it for later. Parrots are very intelligent as well, but it is thought ravens win the prize.
How many chicks do ravens have each year? In the wild I normally 2-3 chicks fledge and begin to fly with the parents, but the maximum possible is 7 chicks. I have never seen this many.
Crows in groups are called, what? The plural for crows is a "murder," ravens are known as an "unkindness" or a "conspiracy." It is obvious that terms were created during the time when ravens were thought of as harbingers of evil, as Indigenous people of North America would have devised less morose terms.
What is the difference between a raven and a crow? Ravens are larger, have a larger bill, and the middle tail feathers are longer than the outside ones, so their tails appear more as a wedge, while crows tail feathers are a straight line when spread. Ravens are less flock-oriented as crows. Ravens tend to dominate in harsher climates than crows.
That was a great webinar! Super interesting! Please more bird behavior Thank You!!
How in the world do ravens survive the arctic temperatures? Birds rely on their feathers for insulation. Many animals, song birds being a great example, rely on brown fat to generate heat. While white fat is stored for times when the animal needs energy to live when it hasn't gotten enough food, brown fat is full of mitochondria which are activated as body heat generators when it is cold. Birds must get enough calories each day to keep fueling these brown fat cells to survive the cold nights. In interior Alaska when the temps dropped to -40 I remember noticing that every creature, including most humans, were hunkered down, but the ravens operated like normal.
How do the crow and raven interact with each other? In areas where I see them living in the same area, they compete with each other. Ravens are larger, but crows often use large groups to displace ravens. On the coast of Alaska ravens dominate all other birds, including eagles.

When there are road kills on the roads, are the ravens that we see pecking at the dead animal or crows. It could be either one. It can sometimes be tough to tell. It would help to know where this is happening. Some Arkansas crows look big, but I know ravens aren't found here.
Did you ever witness the bears share their catch with the ravens? Not really, but ravens certainly benefit from the scraps.
How big are ravens wings? 3-5 foot wingspan.
How fast can ravens fly? 30-60 mph, but can achieve higher speeds in a dive.
How many types calls do ravens have? Around 35 different types of calls, and ravens of different regions have unique dialects. Ravens can also mimic any sound, but not to the degree of accuracy as a mockingbird.
Ravens in Churchill help the bears find seals? This is not known, but I would be surprised it they did not, knowing the intelligence levels of both species.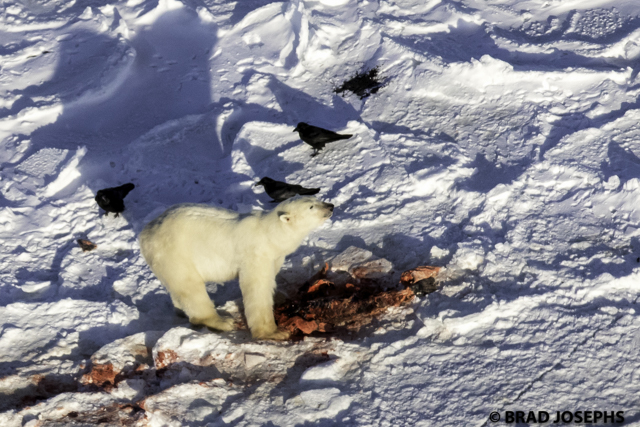 How long do ravens live in the wild? It seems that longer lived birds are more intelligent. Hummingbirds live 3-5 years in the wild, while ravens can live to 10–15 years, with a record of 22. In captivity it is possible for them to live to 70! Bald eagles live to around 20 in the wild, so intelligence isn't always the key factor.
Could you reccomend a book on Ravens behavior? My favorite is Mind of the Raven- Investigations and Adventures With Wolf Birds by Bernd Heinrich.
I LOVE Bernd Heinrich. Think he's from Maine. Feels like you're just taking a walk in the woods with someone incredibly knowledgeable. One of my favorites is Winter World.
I am so thankful for all these talks, you have no idea! O hope this will pass and I have already made my decision: I am selling a couple of unnecessary things I have and I am traveling for about 2 years, only doing what I like. I intend to see all these animals. Thank you. M.Beatriz

What keeps ravens out of the Southeast USA? I dont really know, but they seem to prefer colder, and/or more mountainous regions. Crows thrive in the southeast US, but don't do well in the north country.
Do ravens build nests or take over another birds nest? Ravens build their own nests, and reuse them every year, like eagles.
I forgot about this story from Churchill, showing ravens harassing and playing with a snowy owl. No bird can outfly, or outwit a raven. Read the full story here.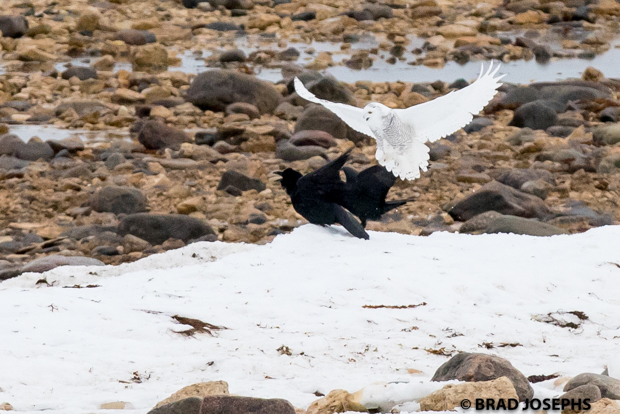 Read this story from Churchill about how appreciating ravens might have benefits….