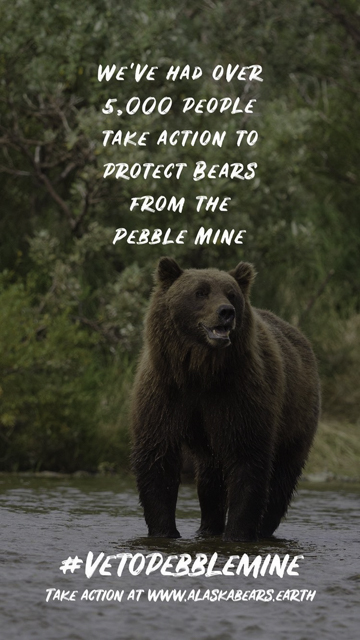 The time is coming near when Pebble will either be finally rejected, or our worst nightmare will finally, after a 20 year fight, come true. Since my last post there has been one key update that sent our hearts sinking, and shares of the Canadian Northern Dynasty Minerals soaring. President Trump issued an executive order to approve all mining projects, and ease restrictions because Trump believes we are in a National emergency because of our reliance on foreign minerals. In our opinion, the pebble mine will destroy a flourishing economy based on fisheries and tourism, which do not mix with heavy industrial development. Recently I sent the EPA the following letter urging them to Veto the Pebble Mine, which is the only way to stop this project once and for all.
I have been a career Katmai National Park Bear viewing guide for 22 years so far. I lived in Homer, Alaska for 20 years after receiving my BS in wildlife biology from the University of Alaska, Fairbanks. I am as well versed in the region's bears, and the importance that bear viewing has to the regional economy as anyone. I have been fighting the pebble mine idea for 20 years as I believe the industrial infrastructure of the mine, the port terminal and the transportation corridor will have a severe affect on the bear viewing industry, which I believe is being grossly ignored by Army Corps of Engineers.
All of my bear expert colleagues agree that industrial development of this scale would cost bears lives, habitat, and the rare and valuable trust relationship between bears and people which are all essential in this world-renowned ecotourism asset that drives more than $40 million into the local economy every year. We believe that the Army Corps is not taking the concerns of tribes, independent scientists, or state and federal agencies seriously.
After the Pebble Tapes were released, we all are reminded that we cannot trust the Pebble Partnership. They admit they have deceived Alaskans and the Army Corps in order to secure their permit, and they admit they plan on massive, long term industrial development. It also proves that the EIS process has been politically rushed and ethically flawed. The salmon and the bears, and the wilderness value of this region cannot be lost to large scale industry from foreign mining companies. This is the wrong mine, in the wrong place, because on the Alaska Peninsula the real gold is not in the ground. Please Veto Pebble!
Please, go to ALASKABEARS.EARTH which provides a direct portal to easily, quickly email the EPA, and tell them to Veto the Pebble Mine.