I want to share some thoughts on how valuable the current craze in wildlife photography is to conservation, but remind people that it can be a double-edged sword. I remember when I was young and first getting interested in photography that my photos would, for the most part, get placed in bulky photo albums and were seen by only a handful of people. Today I can post images on instagram and Facebook that can be viewed by thousands of people from all over the world in a few days.  They can enjoy them and leave comments, and it is fun to get positive feedback and help others appreciate the beautiful landscapes and creatures of the planet. People's interest in wildlife photography puts a direct value on these animals and resources. This is wonderful thing and although the technology obsession is often blamed for causing a disconnect from nature, it can also have the opposite effect.
I have myself experienced the thrill and monetary success of having my media go viral in the past. While working for the BBC I did very well filming bears with unmanned GoPro cameras. The super-close, ultra wide look was becoming the new sensation in wildlife photography. As long as the animals weren't baited in, and the cameras didn't disturb the animals, it didn't do much harm. I did fear that there could come a point when everyone would be placing remote cameras all over wildlife habitat to achieve similar results, and unfortunately that does happen sometimes.   I was criticized by some of my colleagues, and am much more careful now to set good examples to the world.
Below is an example of how our craving for "likes" and positive comments can effect the animals we admire in ways that deserve consideration. These two stunning images of a polar bear in the water are totally amazing, and have gone crazy on instagram. At first glance one is stunned by the composition, and thinks "wow, how did he get that?" I love seeing people get excited about polar bears, as it makes us consider their likely extinction in the future due to climate change. I had a discussion with bear guide colleagues; Drew Hamilton, Justin Gibson, Alex De-vries Magnifico  Kurt Johnson and Eddy Savage, who are all considered bear experts and talented guides and photographers. We all know the importance of getting good images, but we also care about bears and ethics above all else.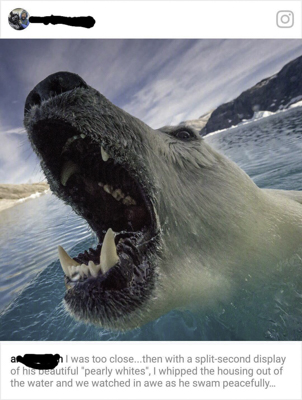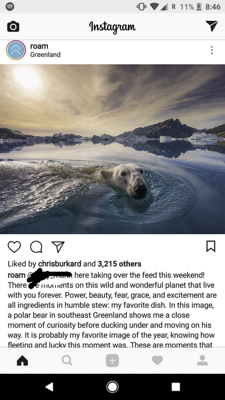 We concluded that these images, taken from a zodiac in the water from a few feet away, were not ethical, and it saddened us to see the explosion of attention they were getting. As bear experts, we know how tremendously stressed out the bear must have been, as it was approached by this craft. We also knew how angry the bear was to have snarled at the camera, and how potentially dangerous this must have been for the photographer. Well the photographer obviously was not hurt, and Im sure the bear recovered from the incident, and now the photographer is reaping the benefits. Obviously other aspiring photographers are seeing these images as the top standard for success. Imagine hundreds of polar bears having their seal hunts ruined, and undergoing tremendous stress by dozens of photographers who chase them around the ice floes in pursuit of "Instagram Fame." We all contacted the photographer and pleaded our point, and although he didn't respond for some reason, he did remove the image of the bear snarling at the camera, so it seems he understood our point.
Here is another example. Thousands of people are heart-warmed by this video of a female bear with cubs who climb onto her back. Is this cute? My friends talked about this one as well. This bear and her cubs are totally vulnerable in the water and are terrified by the a boat that approached only feet away. When I am guiding in Alaska and I see a bear swimming I avoid the bear if there are any signs of stress even though I know my clients might get a thrill and some dramatic media if I was to approach her. This is a terribly disturbing video. THUMBS DOWN!!!
Hopefully this post gives everyone a little reason for thought as they browse the ocean of media on the internet. We as social media users are the only ones who can encourage ethical wildlife photography, and spread the word.  All wildlife photographers and viewers have some impact on the animals that they love, and over the years I have certainly have, but we need to have boundaries and limits and ethics and know where to draw the line.
What do you guys think?
Brad