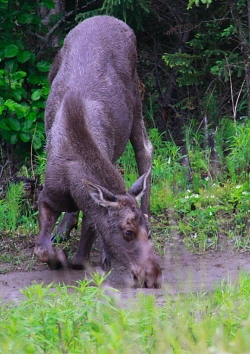 Tomorrow I am off to katmai to guide brown bear viewing trips for Natural Habitat Adventures, and today I was spending some time with a good friend of mine who will be heading out there with me.  Larry Travis of Victoria has done many things in his life, including building and owning a helicopter outfitting company called Green Mountain Aviation, but recently he spends more of his time photographing bears, and assisting the Raincoast Conservation Society in preserving grizzly habitat in British Columbia.   In my previous article I spoke of the record numbers of bear encounters causing problems on the Kenai River, about 2 hours north of Homer.  We decided to go see what was going up there, so we loaded our mugs with coffee and headed north in the early morning mist. 
It wasn't long before we were pulled off the highway photographing a moose that had lowered himself to his knees to drink from a puddle.  This was just the start to our excellent wildlife viewing for the day, as I have come to expect in this incredible state.  It never ceases to amaze me how lucky I am to be able to live and work in such an exciting, beautiful place.  We continued north to find bears, and reconnect with an old friend and colleague, Dr. Steve Stringham.
Steve met us at the Russian River Ferry where he is working as a wildlife safety officer.  Steve has guided trips with me a few times in Katmai over the years, and I have assisted him with various aspects of his bear research.  His forty years of research,  numerous books on bears, and his work creating the Bear Viewing Association,  have done a great job in helping to unravel ursine complexities to the people of the world.  You cant ask for a better friend to have when you want to explore the Kenai Wildlife Refuge in search of bears.  We took the cable ferry across the river and walked the banks above the masses of fishermen plying the waters for sockeye salmon.  Within minutes people were shouting to us that a black bear had been walking the same trail just moments before.   About the same time we looked down at an open pack full of lunch food sitting all by itself.  "Hello sir, is this your pack? It must be within 3 feet of you at all times, or you could receive a $500 fine"  Steve informed a young man at the water's edge.  If a bear was to grab the pack and get a meal, it would form a dangerous association which could result in injured people, and its own eventual demise.  This is such a basic idea, but it is so difficult to convey to the general public.  Steve was doing his best to help a solve an age old problem.  Bears and people often don't mix unless people are willing to give a little.
A ways down the trail I looked across the river and noticed a large female brown bear with two spring cubs walking down the bank.  This was one of the two bear families that caused the closure of one side of this  section of river.  To my surprise and disappointment, the closure only included a chunk of forest where the sows reside in, but not the river bank that they walked frequently to look for fish carcasses.  Luckily fisherman saw her heading upriver and backed away, giving her the room she needed to find food, which she did.   This beautiful bear family provided us and about fifty other anglers with quite a show as she plunged in the water after fish.  She was a smart bear, and seemed to give people a wide birth, but this could all change if only one person does the wrong thing.  She has, in the past few days, collected several stringers of salmon that people left near the banks, in violation of the rule that they must be no more than 12 feet away from their catch.   I fear that the bear will become more aggressive when she detects a stringer of fish, and may become confrontational, but for now, she seems to be doing a great job.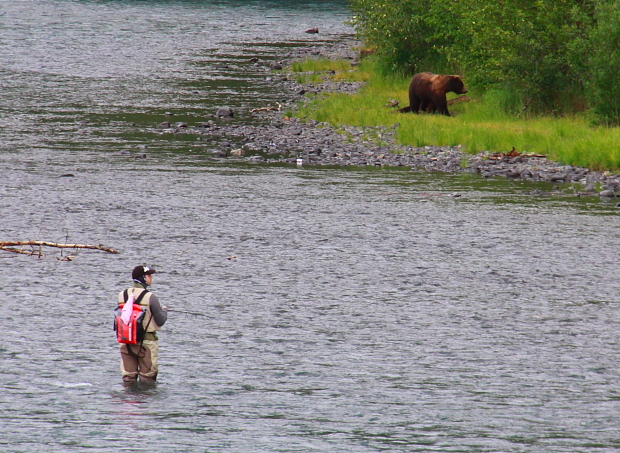 We continued through the mazes of people and bear trails and Steve showed us a bear scratching post on a power line pole.  The tooth and claw marks into the wood were symbolic of this traditional bear territory that was now interfacing with civilization.  Can we preserve this productive bear habitat in the midst of human pressure?  It will only be possible if users are both respectful and educated.   A few minutes later we watched Steve ask a couple of folks to obey the law and keep their dogs on a leash.  "That dog could cause a docile bear to become defensive and dangerous.  You will face a fine if you let it happen again."  Wow, I am glad Steve is out there, because it seems to be a powder keg ready to explode.
Later we wandered the boardwalks along the beautiful Russian River.  Hermit and varied thrushes sang away on the branches of aspen and cottonwoods which rose up from thickets of five foot tall ferns and cow parsnips, which were crisscrossed with bear trails.  A shallow, rocky river boiled with salmon and fisherman.  I stopped to speak with a woman standing on the boardwalk with a rifle slung over her shoulder.  "Is that for bears?" I asked?  "Yup" she said.  I showed her a hand flare that I always carry in lieu of firearms as a safety measure in bear country, though in 12 years, and thousands of bear encounters, I have only had to use them on three occasions, and they have always worked for me.  I tried to explain to her that a gun will likely only make a situation more dangerous, as wounding a bear is the worst thing a person can do.   She said she would reconsider bringing the gun along next time and would go pick up a flare from the marine safety store, I hope she does, as guns are simply not the way to go.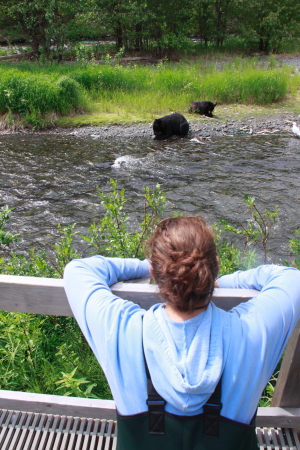 Eventually we reached a 100 yard stretch of river which was closed as a salmon sanctuary.  A female black bear and her 18 month old cub gorged on salmon carcasses on the only human-free sandbar we had seen.  Both bears had learned to ignore people, who were awarded with excellent viewing.  This was how it should be.  If it were up to me, I would close this entire river to fishing and let it become a bear viewing sanctuary.  I am a biased dreamer who has been spoiled by the splendor of Katmai…
For me, today was a great day.  Along with a moose, and lots of birds, I got to see both a brown bear and a black bear family who had learned how to coexist with people.  Most of the people we saw were informed and behaved responsibly, and seemed appreciative of an opportunity to view bears in the wild.  Mostly I feel good because I know that Steve will be instrumental in bridging the gap between humans and bears, but this is an uphill battle.  I hope we can learn lessons from the successes of Denali and Katmai National Parks where people and bears have developed healthy relationships and boundaries, and apply them to other regions of  Alaska.  As I have had said so many times before, the forests are empty and sad without bears, and they are actually very easy to be around, if treated with due respect.