I returned a few days ago from China, where I was working for Natural Habitat Adventures, guiding expeditions since early April.  I miss China, but that long in Asia sure does make a cheeseburger taste good!  I am preparing to leave for the coast of Katmai National Park in a day or so, but have been checking my images from Wild and Ancient China Photography Expedition whenever I get a moment.
One of the highlights of the trip is always Jiuzhaigou National Park in northern Sichuan Province, China.   This incredible high altitude valley on the rim of the Tibetan Plateau is both a UNESCO World Heritage Site, and a World Biosphere Reserve.  We hike through a chain of turquoise lakes connected by some of the most photogenic waterfalls on earth.  It is a great place for us to learn about and practice slow exposure shooting, to capture the motion in the water.  Check out this earlier blog post I did a few months ago, which explains how to do this by CLICKING HERE.  Here are a few more waterfall images.
When I am photographing a trip like this, my main goal is to document the trip for the guests, and I give everyone access to an online photo album at the end.  I shoot in JPEG large format because  I really dont have the time to resave and adjust every picture from the trip, or the harddrive space.  If I see an image I really like, like the one above, I do press a button on the top of the camera which allows me to shoot a RAW copy.  When I do this, I have much more control over the shadows and highlights, and can manipulate the white balance settings.  I warmed the above image up a bit by adjusting white balance.
The pandas experiences this year were the highlights, as always.  Cool weather really allowed for some great viewing, as heat tends to make them inactive.  One rainy morning in Chengdu we were treated with one of the most amazing panda behaviors I have ever seen: a mother playing with her two cubs in a tree!  For nearly half an hour, as this family played "king of the branches," we feared one or more of them would fall out and injure themselves, but they are excellent climbers, and held on with their very strong paws.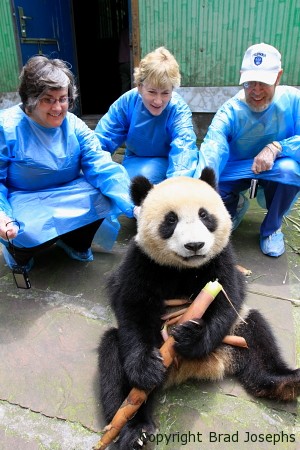 Everyone interacted with the young pandas.  You cant describe the feeling of touching a bear, much less a panda!  Many of the folks shed some tears of joy as this lifetime dream magically became a reality.
I was very happy to see Pam Barker on my rooster.  She had joined me on a Kodiak- Katmai Grizzlies trip last July, and has also been on the Spirit Bears trip to BC, and twice to Churchill to see the polar bears– she obviously loves bears.  This was actually her third trip to see pandas in China!  Someone with that kind of passion about bears is a friend of mine.
Check out some posts I have done about China Travel:
Deep Into the Minshans- Scouting Future Wild Panda Trips in Sichuan, China
Pictures of Pandas In Chengdu, Sichuan, China.