There is a new wave of bad news on the front lines of the Pebble Mine battle.  To service the mine itself, a proposal is being fast-tracked through the Army Corps of Engineers to build a giant industrial port on the wilderness shoreline of Cook Inlet, along with an 83-mile "transportation corridor" aka " two-lane road" to the proposed mine site. Environmentalists have discussed this mine at length for years, but this industrial port idea is an evil secret right now, so let's concentrate on that, because there is a hell of a lot to this project, and time is running out!
The port location they propose, at Amakdedori Beach, is in the heart of some Alaska's (if not the earth's) greatest wild country.  I know this area well from my time working for the Alaska Department of Fish and Game at the McNeil River State Game Sanctuary and Refuge, home to the largest congregation of brown bears in the world.  This amazing  ecosystem teems with bears, wolves, moose and other wildlife, is full salmon spawning streams, and the offshore water is critical habitat for endangered beluga whales and sea lions, halibut, salmon, seals, sea otters, a host of whale species, and seabirds.  Massive snow-capped volcanoes rise from the horizon.  To this day, this is one of the most beautiful, wild and magical places I have ever seen in my life.
The Pebble Partnership wishes to build a port right next to McNeil River State Game Sanctuary and Refuge—and they aren't talking about a wooden dock and a boat shack… in their words, they need the following: "earthen access causeway that extends out to a approximately 4.2-mile marine jetty located in 15 feet of natural water depth. The channel of the jetty will be dredged to 50 feet below the low-low water line to allow for the required under-keel clearance for the design ship and will be 400 feet wide at the bottom. In the area near the berth, a 1,200-foot diameter (minimum) turning basin will be provided for ships to safely navigate in and out of the berth. The dredged material will be used to construct the jetty, causeway, and/or the main terminal patio area, if suitable. Excess dredgeate will be stored in a 170-acre impoundment adjacent to the port facilities. Annual maintenance dredging will be required through the life of the port facility."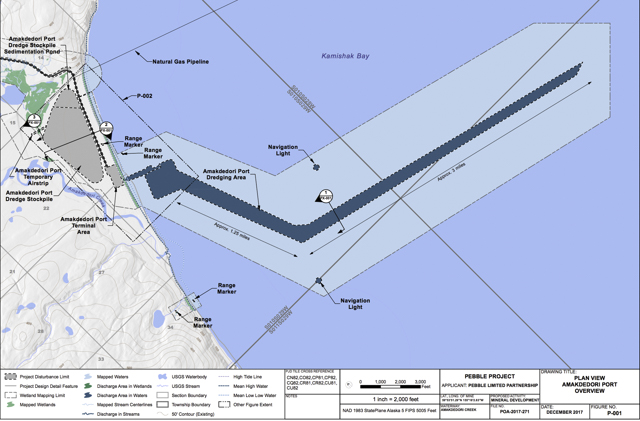 This diagram shows the extent of the proposed destruction. The causeway and dredged shipping lane alone will cause catastrophic damage to this delicate marine ecosystem. Oh my… imagine an industrial hellhole viewable from McNeil Refuge, one of the greatest natural jewels on Earth.  Imagine that beautiful ocean water muddied to the horizon by dredging and erosion from the channel they say they will need to be excavated. The infrastructure at the port will include "power generators, diesel generator, LNG compression station for roadside LNG pipeline, maintenance facilities, employee housing/offices, airstrip, ship loading/ unloading operations, storage facilities for ore concentrate/fuel/other supplies, water and sewage treatment plant, and an airstrip."
Just take a minute to imagine that.  Now imagine an enormous dock that will accommodate the 25 annual visits by 700-foot-long "handysize vessels" and the 30 annual visits by marine line- haul vessels, and two permanently stationed ice-breaking vessels. They are talking about a serious facility here.  They are talking about total devastation.
The mine will require an immense amount of power (similar to 230,000 homes), hence the requirement of a  gas pipeline across Cook Inlet (habitat of the endangered beluga whale and stellar sea lion) to fuel a massive power station. Numerous diesel storage tanks, up to 50,000 gallons, will also be located at the port to fuel the other generators.
The Alaska Peninsula is the second-most volcanically active region on Earth. There is an extremely high risk of volcanic eruptions, earthquakes and tsunamis.  Is this a prudent place for such a facility? There is no way we can take anyone's word that this would be anything less than a game of Russian roulette. Just offshore from the proposed port location is Augustine Volcano, which is seismically extremely active, and there is a high risk of undersea landslides that cause localized tsunamis. Imagine what a tsunami would do to this kind of installation? I imagine diesel spills, broken gas pipeline, debris and sediment choking Cook Inlet… a totally irreparable ecological nightmare.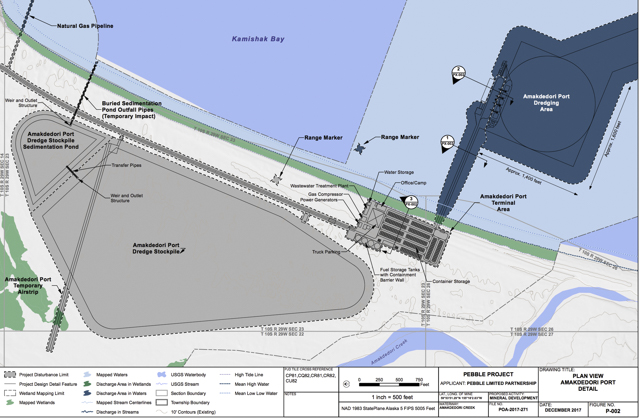 Extending from the port to the mine will be a 90-mile, two-lane travel corridor, consisting of 75 miles of private road, and an 18-mile lake ferry crossing that will be kept open in the winter with ice breakers.  They estimate that the route will see 35 round trips of heavy truck traffic per day.  
What's the economic upside? About 850 jobs for the mine (only during the projected operating life of 20 years) and up to 2,000 jobs available during construction—but keep in mind that this project will be in direct conflict with the tens of thousands of sustainable jobs that already exist in Cook Inlet and Bristol Bay, such as through tourism (sport fishing, bear viewing and sightseeing) and commercial fishing (Bristol Bay commercial fisheries alone support 11,000 jobs). Also, keep in mind that Pebble Limited Partnership is 100 percent owned by Canada's Northern Dynasty Minerals
Right now, the Army Corps of Engineers is taking comments from the public to determine what needs to be included in their Environmental Impact Statement (EIS). We need to make sure they hear from us to make sure that bears are included in their statement. The Army Corps doesn't do feelings. They won't listen if we just tell them it is bad. We need to let them know the things that will be damaged.
I urge everyone to invest some time and care to convince the Army Corps of Engineers that bears need to be considered.  In today's political climate, we must fight harder than ever to protect what is beautiful, fragile, rare and truly important.  This is one of the last great wilderness areas that has seen virtually no impact from civilization, and I promise it will become just another scar on our planet if we lose this fight.
For more information and to submit your comments to the Corps of Engineers, visit helpmcneilriver.org.
Please help the bears,
Brad Josephs and Drew Hamilton (President of Friends of McNeil River)