Check out the below webinar recording on my recent webinar about Nambia's desert wildlife adaptations and conservation. Thanks for the support! Scroll further to see my answers to questions submitted by viewers.
When is the best time to go to see plants and animals? Traditionally the peak time to visit Namibia is from May through November, when the temperatures the chance of rain is low. After October through the rainy season can be very hot, and the chance of rain increases in November. My time there has been in November and December, which I really enjoyed because the desert vegetation begins to turn verdant green as the rain (mostly scattered thunderstorms) brings life giving water to the region. As rains and lush vegetation increase, animals become less dependent on waterholes, so they are still viewable with beautiful green backgrounds, but are less concentrated and more difficult to find than during the dry periods.
How big are the desert hyenas? Brown hyenas are around 4.5 feet long and are 2.5 feet tall at the shoulder. Males and females grow to 80-100 pounds, with males being slightly larger. Spotted hyenas are 120-140 lbs, with females larger than males by 20 lbs on average.
Are they collaring hyenas and lions to track them? Yes, Dr Stander has several desert lions collared (click here too see more). To my knowledge, Emsie Verwey's research has included population surveys and range mapping using camera traps and extensive observational studies from over 800 hours of observation. Click here to see more about Emsie's brown hyaena work.
Are there snakes in the desert? Yes there is a great diversity of reptiles, including snakes in Namibia.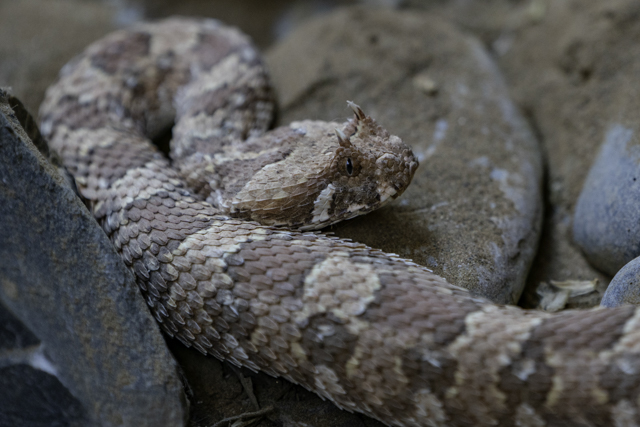 Is there any poaching of oryx horns for so called Asian traditional medicine? I haven't heard of this being a problem. There are many private game reserves in Namibia and South Africa which raise herds of oryx for the commercial meat market. How about the elephants and if there are any rhino in this area? There are big problems with poaching of both rhinos and elephants in Namibia, as well as other regions of Africa.
Has the loss of tourism during Covid impacted any of the research projects, putting them in jeopardy? All entities around the globe associated with tourism are suffering greatly because of Covid-19. Natural Habitat has set up a fund to help these locals and organizations- click here to read more.
I thought China and some of the other countries has taken measures to outlaw the traditional medicine scheme, no? Asian traditional medicine is an important, ancient aspect of Asian culture. There are only some ingredients made from endangered species including pangolins, bears, big cats, rhinos, musk deer and more. There are laws to protect these species, but demand exists and is traded in the black market. I believe there has been a great reduction of corruption, and better enforcement of laws in China, but the problem still exists. The demand needs to decrease as the Chinese and residents of other Asian Nations hopefully find a better appreciation of wildlife.
Are there government programs to either avoid lion/livestock encounters or compensate herders for their losses — sort of like the cattle/wolf conflicts in the Western US? To my knowledge I have heard of compensation programs for lost livestock and agriculture damage by wildlife, some funded by the EU, the government, and conservation organizations.
What is the population of the desert lions? Is it going up or down? In 1999, there was only 25 desert lions left in northwestern Namibia (there is another larger population of plains lions in Etosha National Park). Today, the official estimate is around 85-140 lions. This after the population hit a high of 150 in the early 2000s. The lions' recovery remains hugely imperiled by human-wildlife conflict, poaching and trophy hunting. I believe the number is now dropping.
There are meerkats in Kalahari – are they in Namibia? There are a few places where it is possible, but it is much better in certain locations of Botswana and SA.
Do desert-adapted elephants have thick saliva, like giraffes, to protect their mouths from acacia thorns? I have not heard that they do.
During COVID-19, in the absence of tourists, are the borehole pumps continuing to bring water to waterholes at the various concessions, so animals can continue to get water? Yes, the waterholes are still being maintained, as they are run by solar powered pumps.
Mining of minerals, metals, and diamonds has always been the major exports for Namibia. Have they modernized the mining sites at all for less impact on the environment? Namibia is a conservation leader in Africa. To date, Namibia is one of the only countries in the world that has conservation entrenched in it's constitution. Tourism supports and encourages conservation efforts. Chinese mining companies have increased their expansion and development in Namibia, and mining contributes to 25% of the country's income, which is the largest contributor to the Namibian economy. Namibia has various natural resources including diamonds, uranium, copper, gold, lead, tin, lithium, cadmium, zinc, salt and vanadium. In my opinion, Namibia is much better in mitigating as much damage as possible compared to other African nations, but there are some big controversial mining proposals in the works currently in the works.
Is the pregnancy period shorter in general in this part of the world compared to those in the less dry areas, so the youngs have a high chance of survival? I haven't heard of animals of the species having shorter pregnancies in drier areas. For example, the gestation for all elephants is 22 months.
Where can we donate to conservation efforts in Namibia? Specifically for the tourism-based conservation efforts that are suffering from the education of travel due to the Corona virus, Natural Habitat has set up a fund to help these locals and organizations- click here to read more. WWF- Africa (traveling with Nathab directly supports WWF), Wild Aid and Vet Paw are also excellent conservation organizations which specifically combat poaching and the illegal wildife trade.
Is the Namibia government supportive of conservation? Namibia is a conservation leader in Africa. To date, Namibia is one of the only countries in the world that has conservation entrenched in it's constitution. Tourism supports and encourages conservation efforts.
Based on the "wet market" connection to Covid-19, do you think that will change the demand for wild animal parts? Yes, the Chinese Government has made wildlife trade illegal, as it is thought that consuming wildlife leads to diseases. SARS came from people eating civets from China, and corona virus is thought to have originated through the consumption of bats. These practices are based on food consumption. Sadly, there are some falsely rumored, alleged cures of corona virus that contain wildlife and animal products such as bear bile, and this is a different matter, and still exists in the black market. So for food products, such as pangolin meat, corona virus has been a blessing, but for medicinal products, such as pangolin scales and bear bile, the problem may have worsened.
What organization trims rhino horns and how do they do it? This is being done by a vast variety of Government organizations which manage wildlife, such as the Government of Namibia which manages Etosha National Park, and also many conservation-focused NGO's. The rhino is tranquilized, and the horn is sawed off and destroyed.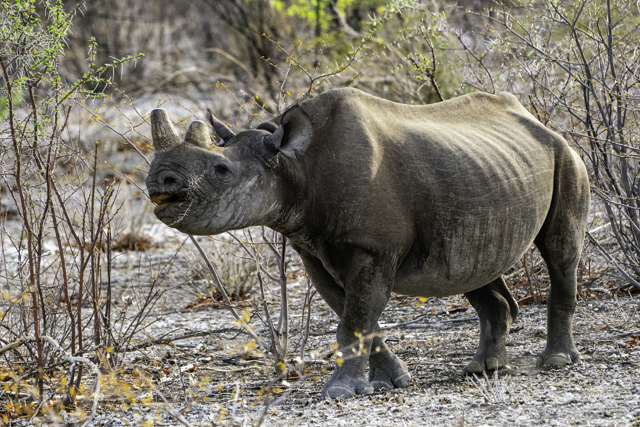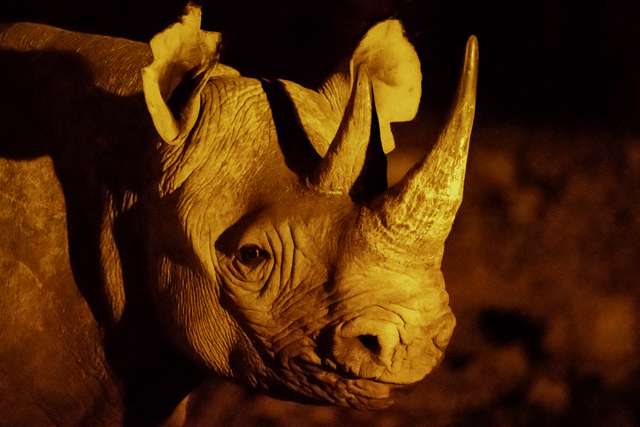 Can we tell if the reduction in tourism due to COVID is affecting the populations of Namibian wildlife? In theory, when any places are on total lockdown, local wildlife authorities are at home, and this enables a more lawless environment conducive to poaching. Click here for a very disturbing article about rhino poaching increases during the Covid 19 outbreak.
Any way to educate people who believe in traditional medicine that rhino horn etc. does not work? The word is getting out, but thousands of years of traditions die hard. There are many people working on this.
Help support conservation of wildlife by traveling with Nathab to Namibia in the future…..